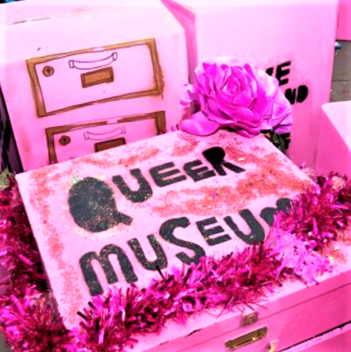 "LGBTQIA+ homelessness, mental health, isolation and hate crime are all a product of our community not having spaces"
As part of a year commemorating 50 years since the decriminalization of homosexuality in the UK, Queer Tours Of London are hosting their first Big Bang Bus Tour this Sunday, touring queer bars and clubs from our queer past, including ones that have only recently closed. Fallon Gold spoke with Dan Glass from QTL about this event, the tours so far and what queer activism and queer spaces mean to us today.
Our queer spaces have been closing at alarming rates in the past few years. What is your aim for these tours regarding our history and our present need to fight for queer spaces?
'Harnessing history as a propeller for freedom today' is the mantra at the heart of Queer Tours of London – A Mince Through Time. Exploring the cultures of our past informs the presence and influences our future. The Queer Tours of London programmes aim to transform our understanding of our culture from isolated incidents into a rich tapestry of how we became to be who we are today. QTL was born out of a conversation in the smokers' corner of the infamous Joiners Arms when we heard it was going to close down and so many of us were sick and tired of fire-fighting the closure of so many LGBTQIA+ spaces and wanted something deeper to bring us together and affect change.
Queer spaces are part of queer visibility and a vital part of our community. What does the future of queer spaces look like? Do you think that the way forward is pop ups and club and performance nights at 'usually straight' venues?
The future of LGBTQIA+ spaces is nothing short of a permanent infrastructure to holistically support our community at large. Heterosexual society doesn't even need to consider to have specialised services to meet their needs – it is handed to them at large because that is the dominator of society that maintains the status quo. We've never been allowed to exist as equals because there hasn't been a place allowed to formalise our history. We have no LGBTQIA+ museum, community centre or AIDS memorial in London alone. Section 28 of the Local Government Act made exhibitions about gay and lesbian life risky grounds for museums as it banned anything that might promote homosexuality to schoolchildren. Since then, courageous museum curators have tried their best by exhibiting Bloolips posters, stories of gay women in the Suffragettes, Greenham Common Women's Peace Camp, responses to AIDS and the Black queer experience. Yet, they are all transitory. Even today it is still not mandatory to teach LGBTQIA+  education as part of the national curriculum. The only way forward is permanent infrastructural change until everything is truly equal, otherwise structural injustice will continue.
There's a growing gulf between the welfare of heterosexual society and the queer community. Rising LGBTQIA+ homelessness, mental health, isolation and hate crime are all a product of our community not having spaces to protect ourselves, reflect on our needs and thrive into our potential. Add rising xenophobic, racist, sexist, transphobic and homophobic instances as a result of the current British political climate and it's a recipe for disaster. Queer pop ups are a great idea but small fry in relation to what is needed and, in this example, even then the bouncers are often homophobic. We need spaces led by ourselves on our own terms.  We will have our rainbow cake and we will devour it!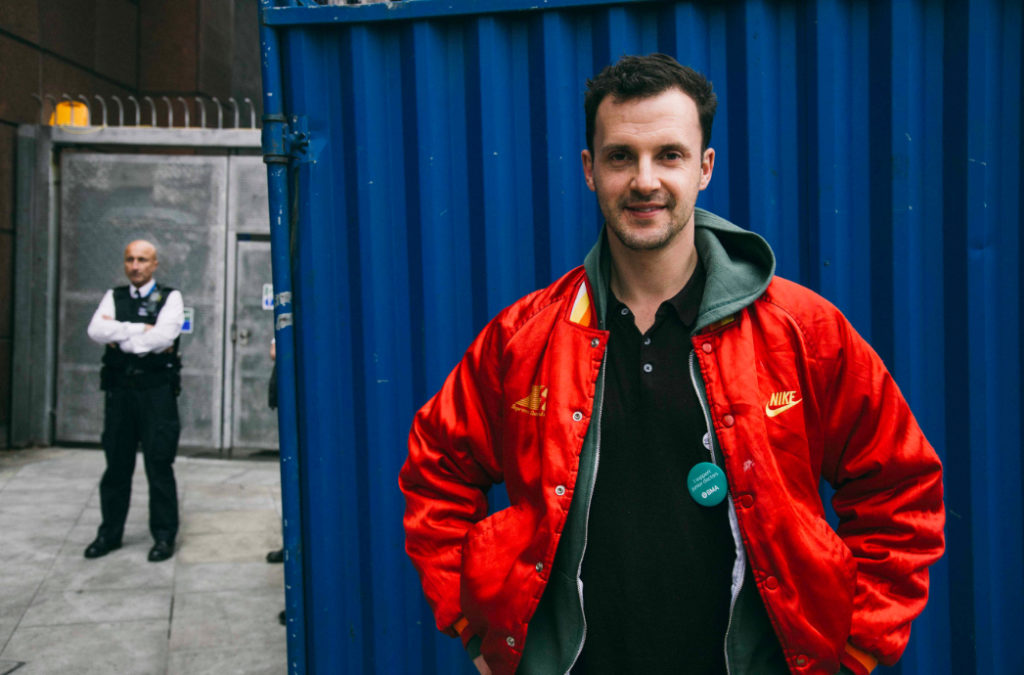 The Mince Through Time tours are part of the 50th anniversary commemorating the decriminalization of homosexuality. Through being part of this project, what are some of the surprising things that you personally have learned about the history of queer London?
That every street has a queer history, it's just we have never been allowed to wholeheartedly comprehend it. Through the many tours, programmes, protests, shows and events we have held it has been so beautiful to see the richness that the queer community has brought to society – it is just we have never been allowed to learn about it. Queer London has made us who we are and it's time that we reclaimed it.
Next year, Parliament will celebrate their role in passing the Act whilst scrunching up the 'Section 28' policy documents in the hope that no one raids the bin. Can we lift ourselves above the trumpet noise, beat away our inferiority complex and allow ourselves the truth? The struggle for LGBTQIA+ liberation is far from over.
In 1960s Britain the 'Public Morality Council' and the 'The National Vigilance Association' hunted our LGBTQIA+ ancestors in the streets, communes and bunkers of Britain to persecute them out of their indecency. Today, the pattern continues but in a quintessentially British manner. The Government continue to institutionalise their value system through the constant reminders of 'hard working values' 'functional families' and their shift towards 'tolerance' and 'acceptance'.
Memorialisation without action is part of the problem. Without confronting the structures that lead to our persecution we are doing a disservice to the creativity, rebelliousness and critical spirit of the 1960s LGBTQIA+ counterculture that led to our liberation today.
I'll never forget the pain of not being allowed to receive support in school until Section 28 was overturned in 2003 – and today I seek justice. Boris Johnson, Theresa May, David Cameron and others have consistently voted/argued against legislation designed to offer protections to homosexuals and transgender people. There has never been sufficient contrition on the part of representatives of (big C) Conservatives for their Party's role in pushing a legislative agenda that persecutes and reinforces the stigmatisation of LGBTQIA+  people, nor do they acknowledge the many ways that we are still living with the legacies of criminalisation. The generalised homophobia, internalised trauma, hate crimes, and, let's not forget, the homophobic legislation imposed on former colonies across the world. The entire Conservative political establishment celebrated Thatcher's legacy when she died – will they now apologise for the harm she inflicted upon us, that we still live with today?
There are obviously many places around the world where it is still illegal to be queer. How can we take our collective histories and bring what we've learned to the fight for global queer rights?
We can look to the Piccadilly Circus 'Dilly Boys' and their renegade flirting-code, the Gay Liberation Front starting Gay Pride as a refusal of being assimilated into heterosexual culture, the underground sexual activity of London's theatres, the Lesbian Avengers abseiling into the House of Lords demanding an apology for 'Section 28', current campaigns to protect queer spaces and the growing movements such as 'Out and Proud Diamond Group', 'African Rainbow Family' and more, demanding governmental responsibility to address the legacy of colonial imposition of homophobic laws across the world, without falling into a post-colonial trap of representing cultures as backwards and in need of the 'white man's help'. Celebrating the 50th anniversary of the 'Sexual Offences' Act should spur us all on to do more rather than rest on our laurels. None of us are free until we all are free and that's why the main focus for 2018 is agitating, confronting and overturning homophobic legislation across the world that began here in Britain.
The legacy of gay liberation and sexual revolution is not the establishment's to claim. Against preposterous propaganda, it's up to us to demand recognition for the struggles that got us here. It's up to us to continue the legacy of visioning our own horizons and dreaming of a world where we are so much more than 'tolerated'. If we do, can we re-imagine what will happen if we win?
Do you get a mix of ages of people on these tours? i.e. those who might remember those times? Millennials?
A huge range! Building intergenerational community is at the heart of QTL. You will see that on the BANG BUS as a fine example. We have representatives from 6 queer club venues – one per decade since partial decriminalisation – who were there at the time as DJs, promoters, hosts and punters to inspire a new generation of creatives, artists and rabble-rousers to continue protecting and creating queer spaces and community. There will even be a DJ battle between an 80 year old and a 20 year old!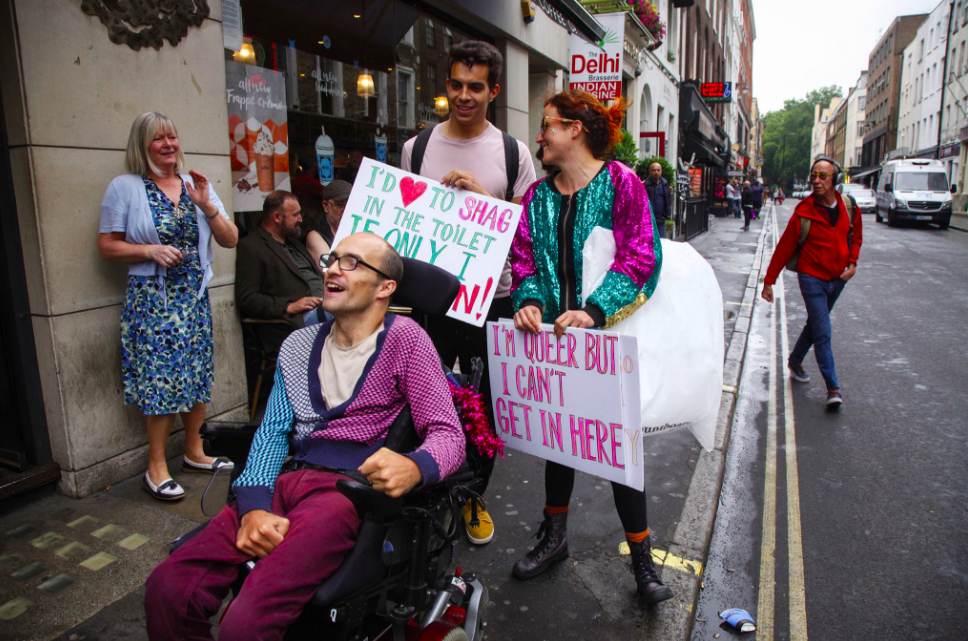 Queer spaces for dykes/women identifying people have always been far rarer than queer spaces for men identifying people. So queer women identifying people could be argued to be harder hit. Have you seen this addressed by the larger queer community in the past few years? Are there discussions and moves towards respecting and addressing difference through intersectionality and inclusiveness?
If 1967 meant genuine freedom for our community we would have to lobotomise ourselves like the medical industry did pre-1967. We would have to ignore the continued unequal age of consent and the enormous disparity between the acknowledgement and rights of gay men compared to lesbians. Indeed we would have to deny the bigger picture of the ongoing criminalisation of our community to equally participate in democracy through the closure of LGBTQIA+ services, support and spaces. Spaces that are safe havens to explore alternative modes of gender and sexual expression without fear of violence, intimidation, or exclusion.
There is only one permanent lesbian bar in the whole of London and not any fully-accessible LGBTQIA+ spaces in the whole of London. These are just 2 examples of how Queer Tours of London generate energy from exploring history to actions today. The recent 'Rebel Dykes – Brixton Dykes on the Rampage' tour has inspired a whole new generation of dykes and women and the next BANG BUS in October is a queer women's specific theme. As a result of the 'LGBTQIA+ disability riot' tour we did where queer wheelchair users agitated for social change by demanding change from every LGBTQIA+ space down Old Compton Street we are now beginning to see tangible changes in terms of access. We firmly believe in 'actions speak louder than words' and the time is now.
If you could conjure up your ideal queer space/queer night (included in this fantasy is access to a time machine and people living and dead), what would that look like?
Hahahahahhaa. Without a shadow of a doubt it is Roses in Berlin – in the here and now. It has pink furry walls, pink spandex ceiling, a Jesus-wanking clock, Amy Winehouse print tables and swing doors to the urinals. It's like being transported into another universe. What else could you want?
Lastly, what's your favourite Mariah Carey song?
'All I want for Christmas is you' – because queer jews love a bit of Christmas Camp.
Images by Holly Buckle
Buy tickets for the first Big Bang Bus Tour and find out more about Queer Tours of London – A Mince Through Time on their Website.
More Big Bang into here
And about Queer Tours of London here