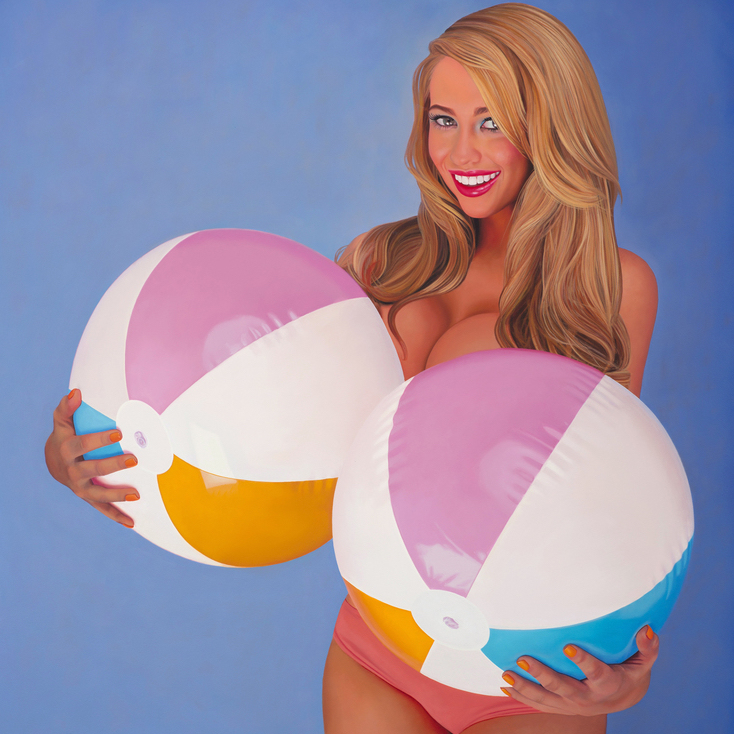 "I found myself collecting images of large breasted young women smiling out at me. They raised a lot of questions."
When Loverboy saw Kelly-Anne Davitt's oil paintings of glamour model Sophie Reade we were in love – with the art and the artist.  We caught up with Kelly to find out more.
We're so in love with your work. Tell us about your latest series Beach Balls and Melons.
I found myself collecting images of large breasted young women smiling out at me. They raised a lot of questions. What did they mean? Could I still call myself a Feminist if I didn't want to ban them? This is where the Beach Balls and Melons series began, an examination of hyper-sexual images of women in media. I wanted to illuminate what I saw as ridiculous and humorous and leave the rest up for interpretation. I was interested in how people would respond.
What have people's reactions been like?
Well no-one so far is particularly offended, which surprised me at first. Reactions are varied, some have said the work is 'sweet', men particularly have felt uncomfortable saying, 'I'm not sure how to react or how I am allowed to react?' Another said, 'don't you think it's a bit sexist?' Well yes, of course. A lot have laughed heartily. Oh and I had my first internet troll on twitter who said 'Cork Street must die!!' with a picture of my painting in the window of the gallery. I thought, yes I've made it, I've been trolled at last!
There's a Martian invasion and they've chosen you as one of their humans to zap up to space and live on Mars. You only have time to grab three things that will occupy you and communicate to them who you are. What you grabbing?
I need to know details. How long am I going for? Will I ever come back? I choose Netflix, a blanket and some paint brushes. I could probably make some paint by crushing red earth together and spitting on it. It may be good for skin tones actually.
You can go shopping with Yoko to buy something for her to wear in her next Cut Piece performance, or you can have dinner with Judy Chicago and get to help lay her vagina table place settings. Which do you choose to hang out with?.. Or someone else?
I would really have liked to have been able to sit at a kitchen table drinking vodka tonics and smoking cigarettes into the early hours with the late Ellen Willis writer/critic/feminist who was a big inspiration to me on this project. She coined the term Sex positive feminism is her 1980's essay 'Lust Horizons; is the women's movement pro sex?' She has an amazing way of wording things that I can only aspire to.
'If feminists define pornography per se as the enemy, the result will be to make a lot of women ashamed of their sexual feelings and be afraid to be honest about them. And the last thing we need is more sexual shame, guilt and hypocrisy – this time served up as feminism.' Ellen Willis, No More Nice Girls. I love her.
What's next for you?
I'm showing work as part of the group show 'Signs that say what you want them to say', at Lights of Soho, 35 Brewer St, from 8th October until 21st November. I'm planning my next photo-shoot Wet and Wild, full nudity this time. Hose pipes and hot tubs. Also working on a series of smaller, more affordable paintings called 'Cheap as Tits' the clue is in the title, they are £550. I do take commissions, so Loverboy readers get in contact and let me know if there is something you would like me to paint for you.