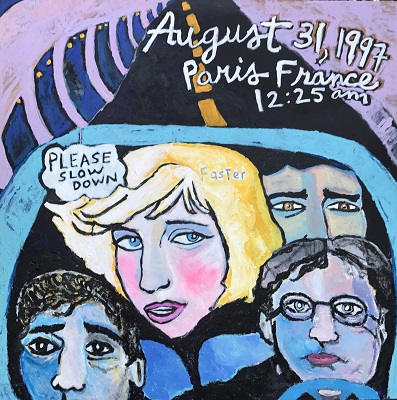 "I love the tragic side of fame. I love stars on the skids - the great fall - it's endless inspiration"
In the latest in our series focusing on queer artists, Loverboy's Fallon Gold spoke with Wayne Hollowell. Wayne is a prominent part of the queer art movement and queer celebrity art movement. He also made some early films with a certain Rupaul Charles, one of which you can see with your own eyeballs at the end of this interview. You're welcome. 
What inspires you to create a work of art?
My biggest inspiration comes from movies, especially from the 50s, and tv stars of the 70s. I work a droll 9-5 job 7 days a week. I'm thankful to God for it but am working to one day live as a painter, solely. So, painting for me is to put on my Franz Waxmann, Bernard Herman or John Williams soundtracks and escape. I am obsessed with true crime and the celebrity of that. The Manson girls have been an obsession since I was about 7, so I paint them a lot. And I love Jon Benet and Patsy Ramsey. I want to do more paintings of them – I'm thinking of a tragic child star series: Kitten from Father Knows Best, Erin Moran, Dana Plato, Lindsay Lohan, Buffy from Family Affair, Brandon DeWilde and Alfalfa. But I've got a friend that says, 'nobody knows them!' But they should know them, lol.
I love the tragic side of fame and explored this in my series Death Becomes You, which shows the last seconds of some of my favorites like Jayne Mansfield, Natalie wood, Anna Nicole. I love stars on the skids – the great fall – it's endless inspiration. I'm also finding inspiration in the podcast You Must Remember This and its hostess Karina Longworth. I could listen to her voice all day.
Do you identify as a queer artist?
I do in that I think my sensibility is very 70s-80s gay. I'm middle aged and I'm so thankful I came along when I did. Now things seem so fast but when I was a kid I would obsess over Rona Barrett's Hollywood magazine. I remember the excitement when I'd see a new issue at The Food Lion. I'd lay in my room listening to Streisand and dreaming of Gregory Harrison. This was 6th, 7th grade in rural North Carolina. I was so lucky to have a best friend named Zane and we shared the same obsession. It was so much fun and we are both still obsessed with Farrah, Morgan Fairchild, Charlene Tilton. We used to hang pics all over our walls. I still think back to those when starting a painting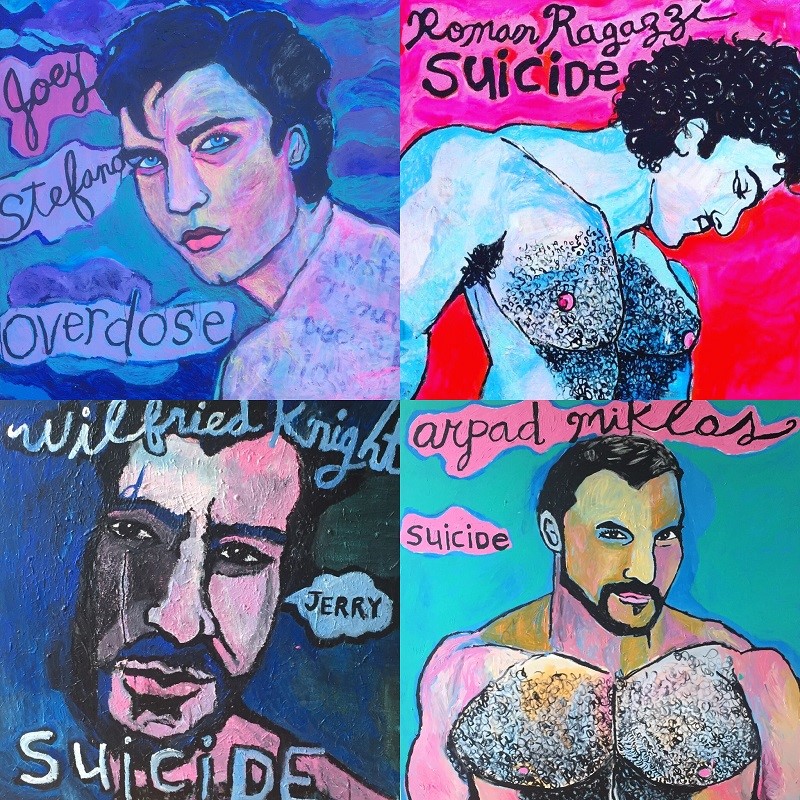 What is queer art to you?
Not sure what I'd classify as queer art. I tend to love work that deals with subjects I love: celebrity and the macabre. A lot of queer art I see is male nudes which are great. I guess if it strikes a chord or inspires me. I think the celebrity nude pieces of artist Chris Mann are Brilliant. His nude James Brolin from Amityville Horror is one of my favorites. And he just did a new Dr Phil that is so great.
Who are some of your favourite artists?
Warhol, McDermott and McGough. If I was rich I'd buy all their work. I love Patrick Angus. Just his tragic story is so sad and his work has such longing. Hugh Steers, who showed the horror of the AIDS epidemic in the late 80s and early 90s, I love his paintings. I love the work of my friend Rocky Helminski. I LOVE the art of Chris Mann who is theuppergallery on Instagram. There is an artist alejhepburn on instagram that has done the most amazing Debbie Reynolds Singin' In The Rain and Judy with freckles. Her work is so beautiful. I am the proud owner of Angie Dickinson and Dolly Parton By Corinna Tomrley who I think is one of the most brilliant people I know!
Oh, you! It's a mutual appreciation society and love, darling.
Your ideas, such as the Streisand Cookbook, blow me away. I love finding new artists on instagram. I just saw the work of Nick Weber who does the most beautiful eerie streets at night scenes. So amazing.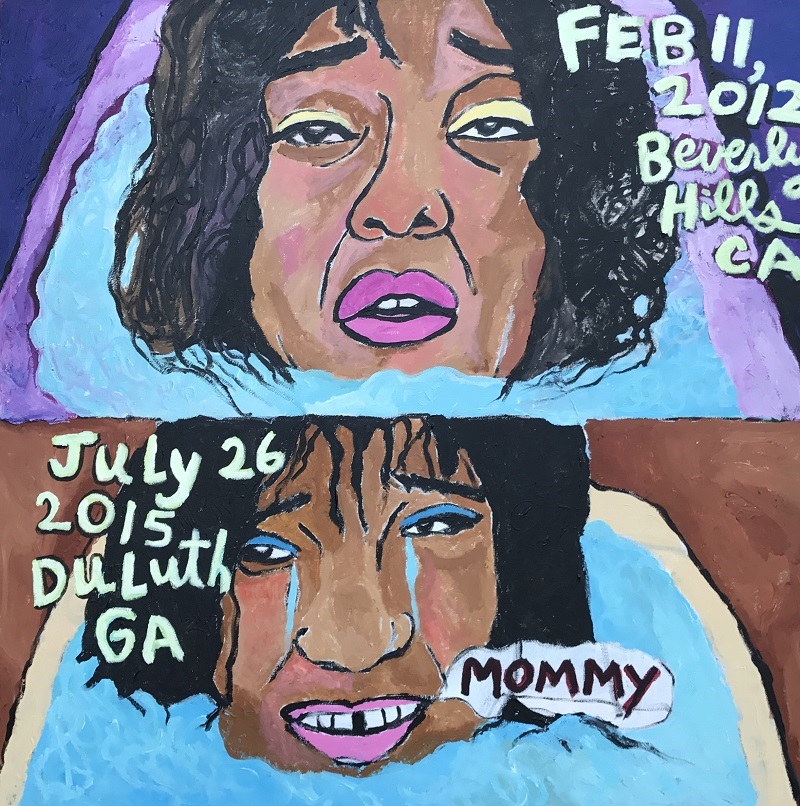 Are there any mediums you haven't worked in yet that you'd like to try?
I've always worked in acrylic so I'd love to start trying oils. I also work pretty big – most of my stuff is 60x60in – so I want to start doing smaller pieces. Hopefully I can sell more then. It's hard for me to work small though but the big ones eat up so much paint and also I think smaller pieces can be so intimate, so I love that.
What's are you working on right now?
I'm trying to decide my next series. I like doing a series of 6-9 pieces on the same topic so I can hang them as a show. I think my problem is I get obsessed over young Harry Hamlin or Gregory Harrison and want to paint them and nobody except you, me and a few others know who they are or obsess about how gorgeous they were.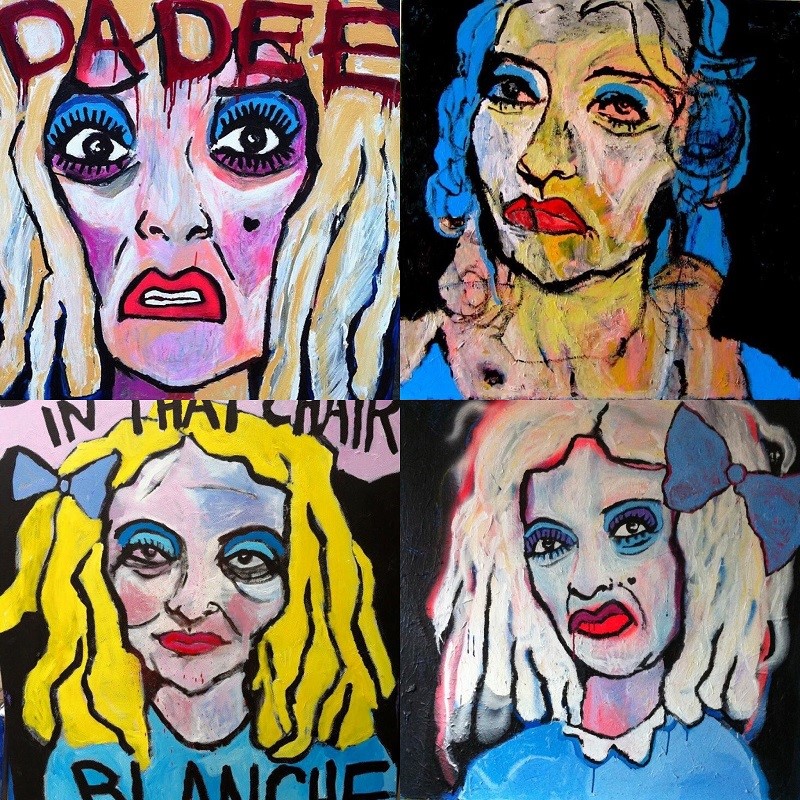 What's next for you?
I hope I can realize my dream of becoming a known and successful painter, being able to quit my day job and go away and paint and sell. I tend to isolate myself and it's very hard for me but I have to break that wall and make this happen. The artist James Bidgood (who made the brilliant Pink Narcissist and did such beautiful dreamy photos) is elderly now and having a hard time with both health and finances. I read his posts on Facebook and it frightens me. He is such a genius and he's crying for help and it seems like no one in the art world or with any influence will help. He had a post saying 'I foolishly believed that if I built it, they would come. Nobody has. Now I'm paying for my foolishness and for being a dreamer and not a doctor or some type of business man.' He's probably 80. He should be being celebrated in galleries all over the world but he's struggling and so sad and frightened. He feels all his work will be forgotten. That's my great fear too. That it will all be for nothing. I've got to find a way to be successful doing what I was created to do. I work in the corporate world very low on the ladder, the bottom of it, and it drains you so much even at that level. I'm just praying for the right door and the right eyes that can turn this around.
See more of Wayne's magnificent work on his website
Wayne directed Rupaul in Mahogany 2. You should most definitely watch this…