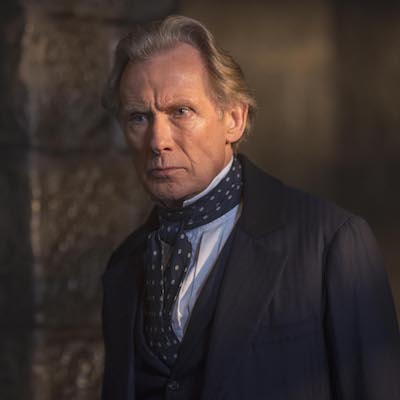 Now, in the UK, there is an ongoing joke, about us watching The Sound of Music every Christmas and to be fair there's no smoke without fire. It's one of Loverboy's favourite films, we even have a tattoo of it…long story. But if you fancy a different kind of family film this Christmas, something a little on the darker side – look no further than The Limehouse Golem. Although it's not really suitable for the kidz, this is a great one for the rest of the famalam.
The film is set in the 1800s, with Inspector Kildare (Bill Nighy) on the hunt for London's latest serial killer. He's accompanied by a bumbling policeman and suspects he is being set up for a fall. Can he catch the killer before it's too late?
The marketing team on this one are clearly a canny crew as it's being released on Digital Download from Christmas Day and on DVD and Blu-Ray from Boxing Day.
But we have a copy of the DVD, a copy of the book AND a poster signed by Bill Nighy to give away. To win YOU MUST LIVE IN THE UK, and email Michael@LoverboyMagazine.com with your address and the answer to the question below.
Who plays Inspector Kildare in The Limehouse Golem:
A) Bill Murray
B) Bill Nighy
C) Bill Cosby
Competition closes 27/12/17
The Limehouse Golem is available on Digital Download from 25th December and on BLU-Ray/DVD from 26th December.