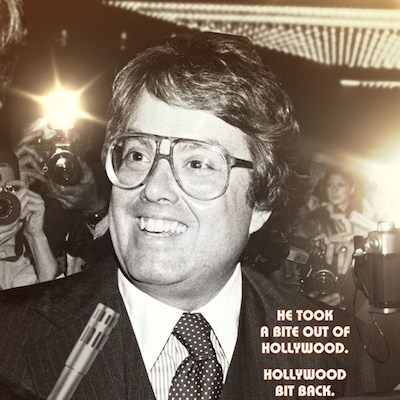 In 1980, producer Allan Carr released one of my favourite films of all time – the bloated disco-comedy-atrocity Can't Stop the Music, starring the Village People as themselves (shockingly they cannot act, so they are supported by stars like June Havoc and, er, Caitlyn Jenner).
After the sensational success of Grease (then the highest-grossing musical film of all time), Carr could more-or-less make whatever he wanted, and he really went all-out. Musical numbers include a Busby-Berkeley-style song about milkshakes and an extended version of YMCA with a lot of slow-motion shots of muscular men wrestling and so on. It's one of the gayest films ever made, with just enough of a heterosexual veneer that they thought it could be marketed to a straight audience. It bombed spectacularly at the box office, after a release in the summer of 1980 just as disco plummeted out of fashion (to be fair to everyone who made Can't Stop the Music, Xanadu met the same fate).
Anyway, you should see it, ideally whilst drunk. You should also see The Fabulous Allan Carr which traces the producer's spectacularly uneven career in Hollywood and Broadway. Filmmaker Jeffrey Schwarz has already blessed us with a series of great documentaries on queer icons: I Am Divine, Tab Hunter Confidential and Vito (IMDb tells me his next project is a behind-the-scenes look at Showgirls, which you can be sure I will also be paying good money for). The Fabulous Allan Carr is possibly his most entertaining yet, thanks to a lot of great archive footage and a fascinating subject.
Producers usually stay behind the scenes but Carr was famously flamboyant, appearing on TV chat shows in colourful kaftans, and throwing debauched parties for celebrities and gays alike in his Hollywood villa, complete with built-in underground disco. His career both peaked and troughed when he got his dream job – producing the 61st Academy Awards. The notorious opening number is such a sensational mess that you should really watch it in full:
The idea was to spruce up the tired format of recent years and bring back some Old Hollywood glamour. An actress dressed as Snow White sings and runs through the audience, there's a giant neon Cocoanut Grove on stage, Merv Griffin sings "I've Got a Lovely Bunch of Coconuts", a series of elderly Hollywood veterans are awkwardly trotted out to show they aren't dead, and it all culminates inexplicably in Rob Lowe and Snow White singing "Proud Mary". The show was savaged by critics, and Disney sued for illegal use of Snow White's image. Carr was crushed by the rejection.
The hysterically negative press reaction to the show ended Carr's career forever. His legacy includes the abysmal Grease 2 and the now-obscure Where the Boys Are '84 (both sensational flops) but he also produced Grease, as well as the wildly successful La Cage aux Folles on Broadway. Jeffrey Schwarz's documentary covers all of this so it's a real treat for fans of camp. It's hilarious without making fun of Carr in a mean-spirited way – by any standards, his life was a glamorous one. We should all aspire to be as fabulous as Allan Carr. (Review: Matt Harris)