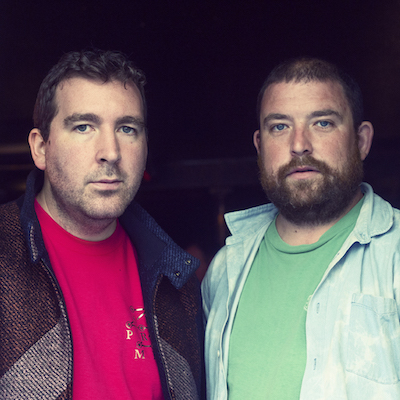 Loverboy lived in London for over twenty years, yes, we're old, so you would think it nigh on impossible to pin down one of our favourite nights in one of the world's great capitals. And although we may not be able to tell you the year, or even the month or date, we can tell you it involved The 2 Bears in The Bussey Building down Peckham way….before watching the sunrise in park somewhere.
Anyway Joe and Raf are coming to Barcelona this Friday (19th January) to play a set at one of our favourite nights, Somoslas and so we thought we'd speak to Raf to find out more.
You both came from different projects to form The 2 Bears. What was the manifesto when forming the group?
Our manifesto is all about love, light, fun, music and good vibrations. We wanted to explore each other's brains and record collections
At the start, was it hard to not bring too many influences from your previous projects – as presumably that would have felt natural…..
I had never made any music prior to The 2 Bears so it was all new for me. Joe had made two or three Hot Chip records. I don't think we had to think too hard about making that album, it just unfolded naturally like the best things do.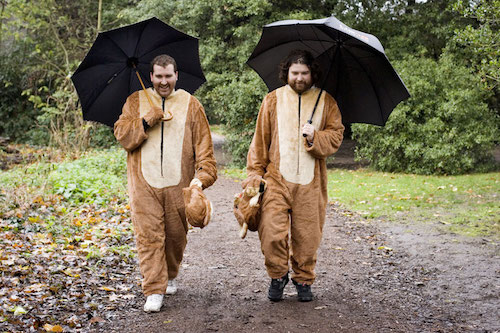 There seem to have been a few genres coined to describe The 2 Bears sound. What genre is it for you?
It's a little bit of a lot of things. To paraphrase don Derrick Carter, part art, part smart, part heart, part fart.
You're named after the bear sub culture. Do you guys consider yourself on the queer-thinking spectrum?
You could say we are queer thinking, yes. But I find that a strange term. Honestly I don't care who you want to have sex with. People should do whatever makes them happy. I understand that as a straight white middle aged man I have never been subject to any negativity as a consequence of my sexuality but I'm bored of everyone going on about it now. Some people are gay, some people are trans, some people are black, some people are all of those things at once. So what? As long as they are happy and not harming anyone else then they should be left alone. People should mind their own business. I've never been to a vogue ball (I'd like to) but I have enjoyed the occasional episode of drag race.
'Be strong' is one of my favourite albums. How does it feel knowing that your lyrics are still relevant, in these times of Trump/May/Kim Jong/Putin.
It's sad, yes. It's a mad, mad, mad, mad world we're living in and it's getting madder by the day. That clown in the White House, Theresa May is useless and Brexit is a total fucking disaster. Kim Jong looks like he could be pacified with a Domino's Pizza and a bag of Haribo but sadly looks can be deceiving.
What are you working on next?
We released an EP in December called London Are You There..? And we have another EP in the pipeline. Whether all this will lead to another album one day I'm not sure…
What can we expect from Somoslas? Name us one tune you are most excited about playing.
We're playing for three hours. So we have time to cover a bit of musical ground. The spirit is HOUSE. I love a duo from Glasgow called L.A.P.S (ladies as pimps) Their tune, 'Who Me?' is played every set right now.
What's your favourite thing about Barcelona?
Theres a lot to love about BCN. The weather, the food, old friends and of course the nightlife.
Lastly Loverboy is named after the infamous Mariah song…..what is YOUR favourite Mariah song?
'Fantasy' because it still sounds great in the club. And it has Ol' Dirty Bastard on it who has long been a hero to us both.
The 2 Bears play Somoslas this Friday. Find out more information on the guys here and on the event here.