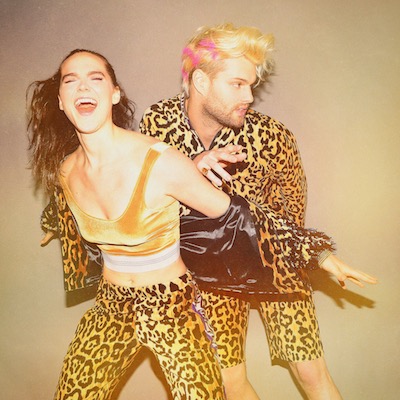 This weekend sees hot new pop/dance/electro duo Sofi Tukker come to come to town and they're looking to party. They're playing Razzmatazz on Saturday night so we thought we'd find out more about life on the road, being nominated for a Grammy with your first song and what tunes were being played in their houses growing up….
How did it feel to get a Grammy nom with your first release, 'Drinkee'?! What kind of pressure came with it?
It felt absolutely crazy. We had no idea that that was even a possibility. It was so surreal. It kind of felt like the opposite of pressure! We had no idea that anybody would like our music. We thought maybe it would be an acquired taste for a very small group of people, so the fact that it got nominated for a Grammy was a huge affirmation that just made us feel like we were definitely on the right track, can keep being ourselves and trying things out that we love!
You've said you don't feel like you've made it big just yet. What would classify as that moment for you?
Headlining a big festival would definitely feel great. But what we really want is to be artists for a long time and we want to evolve in ways we probably can't even fathom now. We want to reach a lot of people but our most important goal is continuing loving life, loving making things and getting to share it all with others! Hopefully we get to share it with more and more people though!
How rock'n'roll is it when you are on the road?
We keep it pretty simple on the rider front. Lots of avocados and coconut water! Being on the road is so crazy anyway so we try to do everything we can to stay healthy and maintain our lifestyle.
Every night there is a new adventure. Last night in Berlin, the soundboard went down 'cuz someone spilled a beer on it. There was silence for 30 minutes and we had to just scream to entertain the crowd. Then two men got engaged on stage!
What can Barcelona expect from your show?
Lots of sweat and jumping around (hydrate. stretch. get ready!!). Lots of smiling and joy! Maybe some screaming! Definitely a catharsis!
Which is your favourite song to perform?
They are all our babies…
I love your aesthetic. How would you describe it in three words?
Sophie and Tucker.
Who did you listen to growing up?
We grew up listening to totally different things. In Sophie's house, there was a lot of Buena Vista Social Club, Santana, Gypsy Kings, Norah Jones, Earth Wind and Fire, lots of jazz. In Tuck's house growing up there was, Chic, War, Disco, Frankie Valli and KC & the Sunshine Band. Then he was a basketball player so a lot of rap, hip hop and also a punk phase…
We are named after the ICONIC Mariah song. What is your favourite Mariah song?
All I Want for Christmas is You, of course.