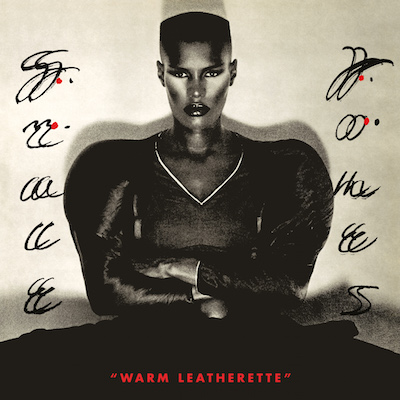 It started with a photo. Entitled Samurai Sissy, the stark black and white 1979 portrait by French artist and conceptualist Jean-Paul Goude depicted steel-cheekboned Amazonian black supermodel turned disco chanteuse Grace Jones wrapped in a dramatic padded-shouldered Issey Miyake creation. At the time Goude and Jones were both artistic and romantic collaborators (he's the father of Jones' only child, Paulo born in 1979. In fact Jones is pregnant with Paulo in Samurai Sissy). Sinister but sexy, the image is so powerful, androgynous and alluring it suggested a world of possibilities: Jones as a panther in human form. Black Marlene Dietrich. Female Bowie. Space-age Nefertiti. Dominatrix from outer space. In her 2015 autobiography I'll Never Write My Memoirs, Jones herself describes it as 'me as an ominous hard-eyed samurai filtered through something occult and African, the killer clown interrupting some mysterious ceremony.' Chris Blackwell, head honcho of Island Records, had the photo enlarged and stuck to the wall of his deluxe Compass Point recording studio in the Bahamas, instructing his crack team of musicians, 'Make a record that sounds like that looks.'
The resulting album – Warm Leatherette (1980), a masterpiece of style and substance – succeeded. And now – over thirty five years later – Warm Leatherette is being reissued in a sumptuous digitally re-mastered two CD box set encased in sleek black leatherette packaging, with rare re-mixes, extended liner notes and lavish photos.
Call it death disco, Afro-punk or simply black alternative music, Warm Leatherette probably invented it. Menacing but sensual, over three decades later the album still sounds futuristic and bleeding-edge. Considering Jones herself was Jamaica-born, the album was recorded in Nassau and most of the backing musicians were Jamaican it's no surprise the sound of Warm Leatherette is primarily rooted in reggae. But this isn't straight reggae in any sense: spiked with New Wave rock, Warm Leatherette suggests eerie art-damaged cobwebbed reggae reverberating out of a haunted house.
But ultimately the identity of Warm Leatherette is dictated by Jones' own haughty, scolding dominatrix voice. The album represented a dramatic reinvention for Jones both sonically and visually, jettisoning the disco frivolity of her earlier recordings for something infinitely scarier, artier and punkier. From Warm Leatherette onwards, Jones would have more in common with, say, Klaus Nomi, Nina Hagen or post-Broken English Marianne Faithfull than Donna Summer or Gloria Gaynor. (Not to malign Jones' three 1970s disco records, which are campy as hell and deeply enjoyable; listening to them you can almost smell the amyl nitrate).
On Warm Leatherette Jones emerges as an ambisexual woman of mystery from everywhere and nowhere, a world-weary escapee from the most decadent nightclubs and catwalks of Paris, Berlin and London. Jones took the template established by Josephine Baker and Eartha Kitt (black female singers as exotic Continental sophisticates mostly divorced from blues, jazz and soul traditions) and updated the persona for the post-disco and post-punk generation.
On later albums Jones would write her own lyrics. Here she (mostly) radically reinterprets New Wave hits by others in her own inimitable style. The title track sees The Normals' stark electro-punk minimalism transformed into lacerating blaxploitation funk. Jones amps up the sexual tension in Roxy Music's 'Love is the Drug.' Just try not to get goose bumps when Jones contemptuously snarls, 'Your sex life complications / are not my fascinations' to a would-be admirer on The Pretenders' ghostly 'Private Life'. Jones' take on Smokey Robinson's 1966 hit 'The Hunter Gets Captured by The Prey' – one of Warm Leatherette's poppier and more charming moments – uses the sound of electronic birds chirping to convey an urban jungle realm. French chanson 'Pars' confirms Jones is at her most seductive crooning en français (think of her initial 1977 breakthrough hit 'La vie en rose' or the accordion-laced 'I've Seen That Face Before'). Best of all is Jones' deranged rampage through Joy Division's 'She's Lost Control' (re-titled 'I've Lost Control'), a nervous breakdown set to music.
Needless to say all of this was catnip for a queer audience. Warm Leatherette turned a lot of people gay (or at least confirmed it). It certainly consolidated Jones' status as a perennial gay favourite. In fact from Jones' first album onwards she was deliberately marketed towards a hip gay urban audience on the (correct) assumption they would get her – an artist too barbed and strange for mass consumption. Jones is our kinky freak diva and an honorary gay (her reputation as a joyous and unapologetic bisexual probably helps). She continues to influence queer artists likes Zebra Katz, Peaches and Christeene.
Warm Leatherette would be followed by Nightclubbing (the one with 'Pull Up to The Bumper') and Living My Life (the one with 'My Jamaican Guy'). Jones closed the eighties with two frankly terrible albums (Inside Story and Bulletproof Heart) and then – except for the occasional film appearance – vanished from the pop radar for almost twenty years until her majestic 2008 comeback Hurricane. Jones reportedly has an album of new material due out later this year. Warm Leatherette, though, represents the origins of Grace Jones' mystique.
Warm Leatherette is reissued by Island/UMG on 17 June 2016 as either 4xLP, 2xCD, Blu-ray audio or digital form.
Review by Graham Russell.