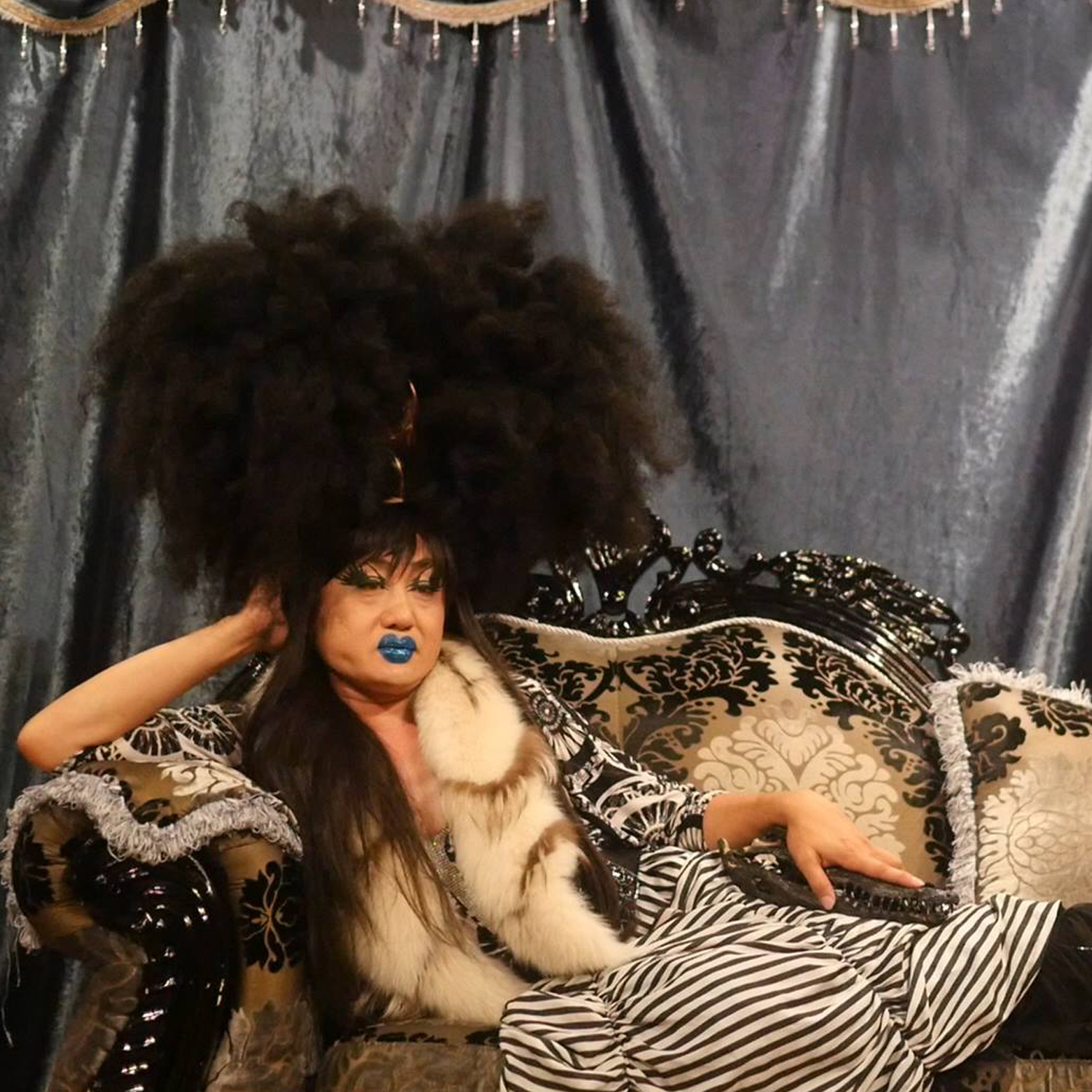 "Get a man who can do both" they say…well, we have! Loverboy is excited to have had the chance to chat with GRAHAM KOLBEINS. This Los Angles local is the co-founder of MASSIVE GOODS as well as a stunning filmmaker. With his new project 'QUEER JAPAN' approaching completion in the editing suits,  Kolbeins' documentary has already caught a lot of attention online. Fashion, Film, delightfully handsome, and a wealth of information on the topic of modern queer politics in Japan, Graham ticks all the boxes.
So, your project 'Queer Japan', did your work with MASSIVE spark the interest to explore this topic for your film?
Absolutely! When I was doing research for our second book, 'Massive: Gay Erotic Manga and the Men Who Make It', I sort of tumbled down the rabbit hole of Japan's incredibly rich queer history. Hundreds of works of art, including novels, poems, and ukiyo-e woodblock prints depicting male-male love were created in the Edo Period (1603-1868). The Japanese theater has a long tradition of queer expressions, from crossdressing kabuki actors to lesbian love blossoming in the storied all-female theater company, the Takarazuka Revue. Learning about these histories and visiting Japan with Anne Ishii (co-founder of MASSIVE GOODS/Co-Writer of Queer Japan) to interview the artists in Massive sparked within me an even deeper love for Japan's queer cultures.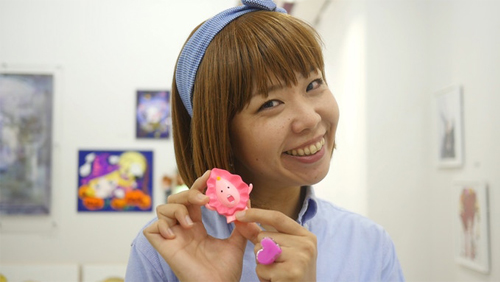 During your time shooting and interviewing in Japan, were there any issues surrounding the LGBTQ+ community that stood out?
Despite Japan's long history of queer culture, today there's a gulf between the LGBTQ+ community and mainstream society in Japan. While queer life flourishes in protected urban bubbles, ideas about sexuality and gender roles are often quite regressive in politics, schools, business, and the family structure–which is enforced through a rigidly family registry system called the koseki. Workplace discrimination is one of the most challenging issues for LGBTQ+ individuals. Very few companies have policies protecting LGBTQ+ employees, and there is no substantial legislation in that area. As a result, queer people are often forced to live a double life: open to their friends and queer communities, but closeted to their families and colleagues.
Any similarities and differences you noticed in comparison to North America/Europe?
One fun unique quality about Japan's queer nightlife is the size and scope of the bars. Tokyo's biggest gay neighbourhood, Shinjuku Ni-chome, is home to at least 300 bars servicing the queer community. Each one has a specific vibe and clientele. There are some bigger dance clubs in the mix, but the average bar is designed to seat around a dozen customers, offering an intimate and convivial atmosphere.
On the other hand, one depressing similarity between Japan and the West is how the leading party's far-right nationalist politicians pinkwash their agendas. For instance, a high-ranking Liberal Democratic Party official who traffics in xenophobic and misogynistic policies and fraternizes with neo-nazis, attended Tokyo Rainbow Pride last year and launched a dubious committee to "investigate" LGBT rights. Her party has done little to nothing to offer actual legislation benefitting the community, but slap a pair of rainbow sunglasses on a nationalist and don't they just seem that much friendlier?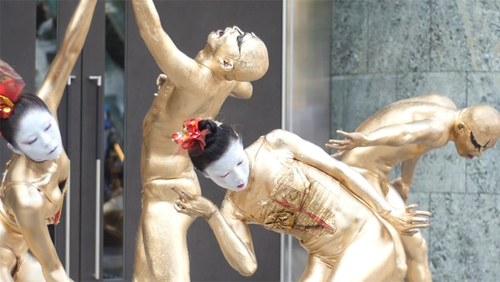 What did you discover about the queer experience in Japan that you weren't expecting to find at all?
One thing that I was surprised to learn was how much more accepting Japanese society has been of transgender rights than gay rights in the past couple of decades. Along with my producer, Hiromi Iida, I had the privilege of meeting and interviewing Japan's first openly transgender politician, Setagaya city councilwoman Aya Kamikawa. Here's how she described the situation: "I think things are very different in Japan from in a lot of so-called developed countries. As far as LGBT, as far as these four categories are concerned, I think laws concerning transgender people and, say, administrative concessions focused on what we call 'Gender Identity Disorder,' have really come a long way. I think transgender people have made much more progress than LGB people." But same-sex marriage still feels like a distant goal, especially with the right-wing Liberal Democratic Party running Japan.
Very interesting! Can you tell us the most memorable situation you got into while shooting your project?
One of the most amazing shoots we had on Queer Japan has to be the time we interviewed the famous drag queen and chanson singer Simone Fukayuki in Osaka. Simone began her legendary party, Diamonds Are Forever, in the mid-90s, and it continues on today in an underground club (literally, you have to enter through a staircase in the subway) in Kyoto. Simone is all about elegance and glamour, so she art directed her own interview with the same attention to detail as her performances. She called in four handsome go go dancers, dressed them in short shorts and shimmering blindfolds for a little mystery, and had them sitting behind her, feeling each other's muscles and making out while she answered interview questions. She never turned around or made reference to them in the interview, she just sat there like a boss while her entourage of gorgeous men injected a heavy dose of homoeroticism into the shot.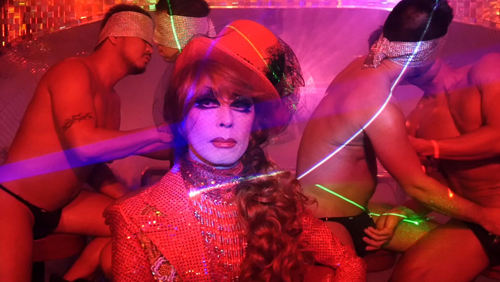 What is it you want people to take from your film?
Mostly I hope to open people's minds to different ways of being in the world. 'Queer Japan' isn't just about one person or movement, it's a kaleidoscopic portrait of queerness in Japan today. The film introduces viewers to a broad spectrum of individuals making an impact through culture or politics or activism– people with identities that don't necessarily fit within the binaries of the LGBT acronym. I think that's reflective of how identity works for all of us. It's not black and white.
Currently you're in the post production of the film (editing) is there somewhere people can check out some footage and see the progress of the project?
Yes! Check out the post-production trailer on our crowdfunding page , and please consider supporting the campaign if you're interested in seeing this film on the big screen. 10% of the proceeds will be be donated to nonprofit organizations benefiting the LGBTQ+ community in Japan.
You can follow the project on social media where you can see clips, photos and update on the project.
Facebook
Instagram
Twitter
Tumblr