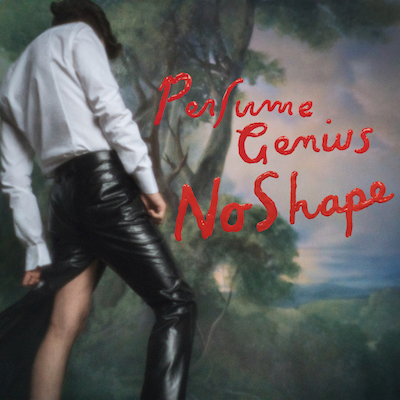 Remember in Bambi when, after winter, all the forest awakes and everything comes back to life? The shaking of the trees, the budding of the flowers, the yawning creatures emerging from their slumber into the glories of spring? This scene was triggered in my head upon listening to Perfume Genius' newest album, No Shape. Loverboy had the great privilege of listening to Mike Hadreas's fourth album and we can proudly say it is the vibrant star of 2017.
The album opens with the fragile twinkling of a piano melody followed by the haunting murmur of Hadreas's voice in 'Otherside', a song that pulls you in with its lullaby tones then smashes you with a decadent mashing of heavy drums, stings and bells. This then sets the tone for the entire album, a queer audio dreamscape of dripping velvets and pillowy lyrics.
No Shape is one of those albums that is built as a complete piece; a runway collection, and not a solo sweater on a hanger. The 'All singles, no fillers' mantra is alive and well in this. It's difficult to pick a stand-alone song because they all flow into one another seamlessly. The tracks take you on a complete ride through the human experience. There's Birth in 'Otherside', Lust in 'Die 4 You', Love in 'Just Like Love', Sadness in 'Alan' and Joy in 'Wreath.' It is to music what the Pantone chart is for colour. Hadrea approaches each song like a classical painter, properly mixing his pigments and applying them either softly or with a harsh directness that he sees fit to induce the emotion needed.
I find it difficult to collect my thoughts on this album. Most reviews I've read about No Shape have been beautiful and reference Hadrea's past albums but I can't seem to do that. This is a renaissance for Perfume Genius.  This album has struck me so hard that I feel that I do it no justice with my words. The visuals that flood my brain whilst listening to it span from Disney to McQueen to Renoir. I am haunted by this, and empowered by it at the same time. The power that is demonstrated by Handrea in this album is that of a master.
Much like the flinging slipper in Fragonard's 'The Swing', No Shape effortlessly tosses a rich experimental queer rococoesque joie de vivre attitude into a beautifully constructed album, which can only be described as being utterly pure.
Perfume Genius' latest album, No Shape, is out now.