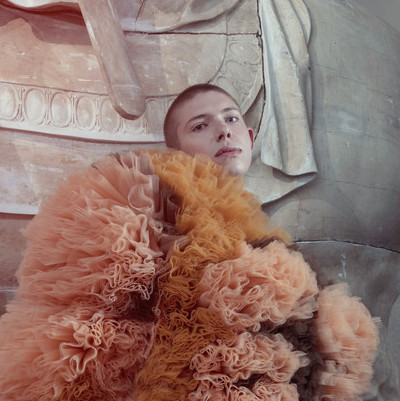 Nicholas Nybro is known to shake things up with his conceptual designs and unique storytelling. In his latest fashion show, Nicholas surprised the audience (yet again) by letting a number of his models, (who sported all different kinds of body types) walk the runway completely naked.
Cathrine Egelund Christensen spoke to Nicholas about not being your typical Danish designer and how he is not concerned with being a commercial designer. No, for Nicholas the story behind the collection and the concept of his design is more important than selling off the rack clothing.  Yet he's a rising star in the Danish fashion industry and definitely the one to look out for blazing the international scene in the coming years. We caught up with him to talk about his distinctive style.
You got quite a lot of attention here in Denmark, when the old-school Danish actress Ghita Nørby wore a dress designed by you to a party held by the Queen of Denmark. Can you tell us a bot more about the dress and the event?
What actually happened was, that Ghita Nørby was attending my AW17 fashion show in February and she saw this big blood red dress. After the show she came backstage and told me that she would love to borrow it because she was going to a party hosted by the Queen of Denmark (Queen Margrethe II). Later on we met so she could try the dress on and we both thought she looked lovely in it. Of course we knew she didn't look like the model in the dress, but we didn't really think that was important. What was important was that she was having a party and, yes, that we thought it was fun. Then we didn't really think much about it – it was a month before the gala. So I went to Los Angeles and wished her a wonderful party, and then I just made a casual comment to my mother saying it would be fun to see a picture of Ghita Nørby in the blood red dress.
So some might say, you set your expectations quite low, right?
Yes, because then the dress took the media by storm. It took everyone by storm and that definitely surprised us. And the fact that I'm still talking about it now is just amazing.
So why do you think this one dress got so much attention?
Well, over the years a lot of people have worn clothes, that they either didn't like or didn't fit them or whatever. But I think what got people out of the chairs in this particular situation was the fact that it was Ghita Nørby, who in is kind of on the same level as Meryl Streep in Danish standards, and it was that particular dress.
What was funny was the discussion about the dress that would happen later. This situation wasn't about either Ghita or me. It was all about the dress and abstractions over how that dressed looked and what it looked like. It was actually really nice that there weren't anyone talking shit about Ghita nor me. – it was only about how outrageous the dress was – especially for an event like a gala with the Queen.  I only received one death threat – that was all haha.
She's not the only celebrity to wear your design at big events. International superstar Sia wore your design while performing at The Voice finale in 2016. That must have been a huge experience for you as an upcoming designer. So who would be the ultimate person for you to see in one of your designs?
Now, you're saying it must have been huge, but I didn't really care. What happened was that Sia's stylist reached out to me to ask about this dress she wanted Sia to wear, and I told her, 'That's great, I'll be there". Then she told me I wasn't aloud to be there, so I told her that it was completely fine, then she just wasn't going to wear that dress. Then they called me up, and I ended up bringing my dress and met Sia. I'm extremely professional and I have deep respect for talented people but I wasn't starstruck at all. I mean, they are talented, I'm talented – there's a reason they wanted to wear my designs and we're working together. So I actually never really thought about who would be the ultimate person. I love that people want to wear my design. So if you work in a bank or if you're standing on a stage in front of 10 million people – I really don't care. As long as you think, what I design is cool. I put everything into each of my designs regardless of who wears it.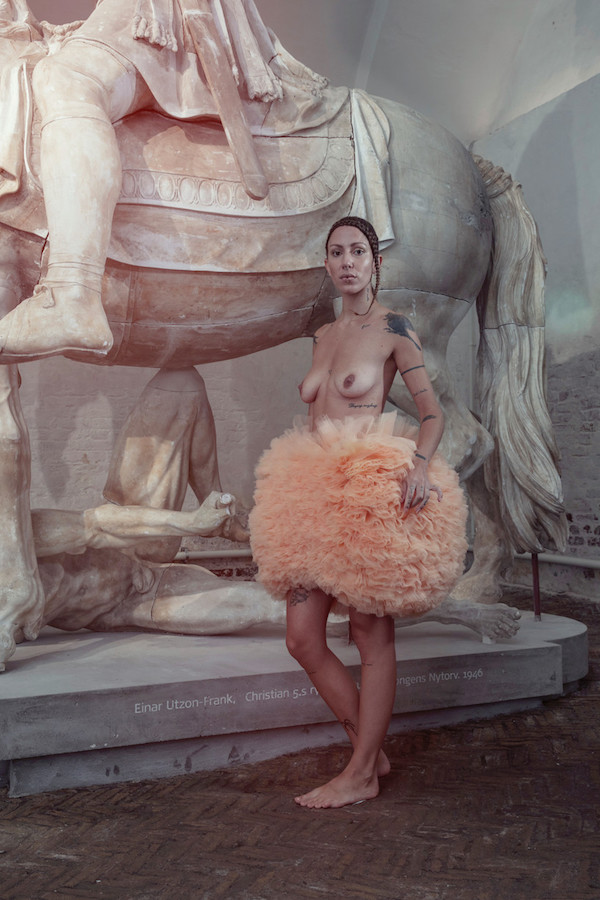 Since your debut you've been praised for not using super thin models, but more a diverse set of models representing every different type of person. Can you elaborate on that?
Well, by now I've made seven shows, and in the first couple of shows I did. I used, what you would call, classic models – tall, thin girls. And I did that because when you're a new designer, you have to be careful not to scare people away. You've got to get on board on some of the classic ideas of what fashion is, and that is, amongst other things, lean models. So I did that in the beginning. But as I got more and more press coverage, it allowed me to slowly be able to challenge the industry and the beauty ideals we see. So I've done that a lot more lately. And with that, you're all of a sudden able to tell a story with your fashion show. To me, it's always been about the message, not only through the clothes but through the music, the location and the models too. That's very important to me. The classic models are meant to do nothing except from presenting the clothes – you might call them clothing racks, right? So if you want to tell a whole story the model casting is very important, and almost every time I've made a show I've tried to cast a diverse crowd that help me convey the story. But over time I've become braver. Now I'm brave enough to not exclusively use model agencies, but cast people I see on the streets.
In your last show that you held in August 2017 in Copenhagen, we saw that some of your models were more or less naked… Well actually completely naked! What was the story behind this collection?
It was actually pretty much a given. I have two collections, which are connected – one is about age and the other is about the body, and I didn't know which one to do first. I ended up doing the one about age first, so of course the one about the body was next up. So if you do the body, you have to consider the pure body, so we decided to make two parts of the show. One part, where the models are wearing clothes and the clothes are abstractions of the body – how the skin starts to hang when we get older, the muscular body etc. Those things created the whole shape universe for the collection. And then to put it in to perspective, I chose to show the pure body and show where the inspiration came from – here it is, this is what we all looks like. When you strip us all of these garments, this is how we look underneath. My inspiration for it all.
Is there anyone in particular who inspires you in the fashion industry right now?
Hmm… No, not really. You might say I'm pretty anti fashion. It took me two years at the design school before I started to look to fashion magazines and get interest in what else was out there. It's actually a little embarrassing; this fashion week I haven't even checked any of the other shows out. I don't have anyone to say. I've had three designers I've mentioned before because you always get this question. And as a joke I've said that I would be the offspring of a sick sex orgy between John Galliano, Alexander McQueen and Jeremy Scott.
Nice. All three of which are kind of challenging what we are used to see at classic fashion shows.  What about queer icons? Who inspire you the most?
There are two. One of them is a classic, and I can't avoid it. I have to say it, and actually it would be pretty awesome to see her in my design, even though I said there was no one before. I fucking don't care. But when I get to work with Cher, I will be VERY happy. It's the classic gay icon. I love her, and I think what she did back in the day with Sonny and Cher was amazing. But if I have to mention someone who is not a classic… okay, it's pretty much a classic too. But still, in another way working with the whole gender bending thing – David Bowie, who as a fashion icon,  is very interesting too.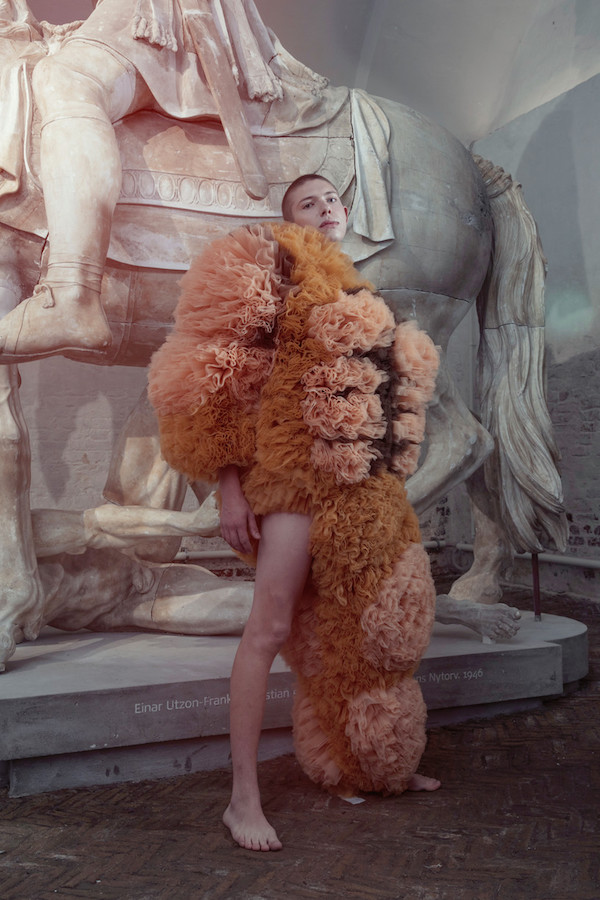 So being from Copenhagen; what would you advice to our readers be, if they had an afternoon to spend in Copenhagen?
I would eat a completely classic Danish lunch. You can do that on Kanalcaféen for example. After that I would go to Design Museum Denmark and see the Erik Mortensen exhibition. I would do that, because first of all, I recommend it and he has inspired me a lot, but secondly because he was one of the few Danish designers who dared to go the anti commercial way. He went to Paris to make these huge creations, which had much more story in them than commercial appeal. He was this young guy from Frederikshavn – the fact that he dared to believe in himself and go all the way to Paris to follow his dream, that's just extremely inspiring to me as a designer.
And what if our readers are looking for a night out?
Well, I'm kind of a brown bar girl, and there is this really lousy bar called Masken where I always end up sitting with a lot of cigarettes and a lot of draft beer. And I actually like it – to just sit and gossip. If the weather is nice on the other hand you should go to Rengbuepladsen (The Rainbow Square) and sit outside. Don't ever go inside the bars there though, cause they suck honestly.
Thanks for sharing, Nicholas. I just have one last question that we ask everyone. We are named after the iconic Mariah Carey song – what is your favourite song by our favourite diva?
That must be 'All I Want for Christmas'. I honestly think she's super annoying, but I have to admit that every December I dance to 'All I Want for Christmas'. So that must be it.
See more of Nicholas' work at http://nicholasnybro.dk or on Facebook and Instagram.