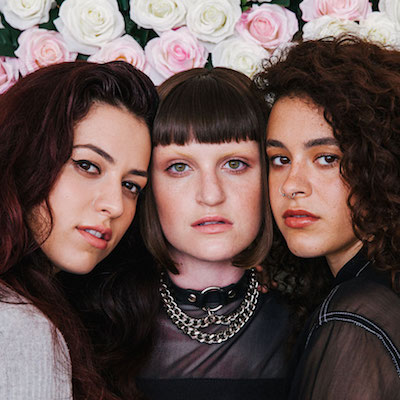 "As soon as we assume we completely understand our neighbour's reasons for action or passivity, we've already taken a step away from mutual respect and unity."
Loverboy hasn't been this excited about a band since poor Javine lost out to Sarah's bum note for a place in Girls Aloud. But MUNA really are everything we need from a band in 2017. They reference The Craft, produce synthy pop gems, are outspokenly queer and even have a penchant for Mariah in drag. If we could embed emojis, you know we'd be using the nails one right about now.
Anyway Katie, Josette & Naomi's album, About U, is out this Friday so we thought we'd catch up with Katie to discuss how you reinvent yourself as non-straight, how the LGBT community needs to suport each other and how she is the Nancy of the weirdos, mister.
How did you come to the name MUNA?
We don't remember exactly who said it! We'd been throwing around names all day 'cause we had written five songs but didn't have a band name. Someone said Luna and then someone said MUNA and that was it.
Katie, you've said that you were trying to reinvent yourself as straight when you were a teenager. What age did you start living as being non-straight?
Hahaha…Complicated question! I had tons of queer experiences growing up but didn't officially 'come out' until I was a sophomore in college. I had a short relationship with a girl freshman year of college that I handled really poorly because I wasn't ready to accept myself. So I think I was running away from that.
You've mentioned before your love for The Craft. Who's the Nancy of the group?!
I've been told I am the Nancy. Jojo just said that I have a 'spiritual leader kind of vibe.'
There's been a serious debate in 2016, about how it is often male producers that are credited for a female singer/songwriter's success. You produce all your work yourself, has this debate had any factor in that decision?
Yes, it has in a way. We all had experiences earlier in life struggling to communicate our creative visions while working with older male producers. We won't speak for the future, though. Anything could happen.
There's also been talk about bands being labelled 'gay music.' What have been your experiences of being a queer band. Is it easier to find a niche market before going mainstream? Or narrow-minded marketing?
We think you're pretty spot-on and self-aware here. We love and embrace our queer fan base and we are happy to identify as a queer band. That being said, capitalism has a tendency to incorporate radical ideas with the intention of ultimately commodifying them. We aren't trying to sell anyone anything. We're just being ourselves and we want other people to do the same.
'I Know A Place' is a new gay anthem in waiting. In this current political situation does the LGBT community fight, play it safe or compromise?
We think the community needs to love and support every individual member of our community's decision to do what makes them feel safe. Some of us have different privileges than others (this is true even within our own band). As soon as we assume we completely understand our neighbour's experience and their reasons for action or passivity, we've already taken a step away from mutual respect and unity. We choose to be loud and to take direct action, but we love those who choose to resist in other ways as well.
Your synthy vibe could be perceived as being cold, but your lyrics are really impassioned. Do you agree there's a contrast?
Never heard this before! Glad we come off as cool on at least one medium…haha.
'So Special' is on our list of top tracks for 2016 after we woke up singing it one very hungover morning. What is the best scenario to be listening to that song?
I love to imagine people singing that song on a hungover morning. Particularly if they did something dramatic and self-effacing the night before, but they are now on their way to get burritos with their best friend and they feel a sense of oncoming peace with themselves.
What are your favourite songs on the album at the moment?
Probably 'Crying on the Bathroom Floor' because it just came out. Or 'After', 'cause we're just now working on the live arrangement for tour.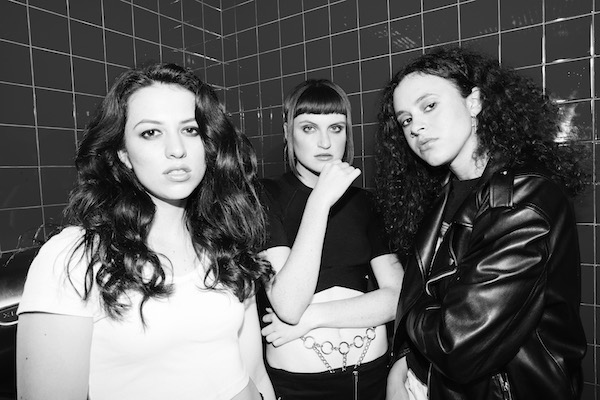 Where would MUNA most like to play?
Jojo says she most wants to play at the Hollywood Bowl because she went to concerts there all the time as a kid. We're so lucky to have already played some venues that are very sentimental for us. We got to play the Metro in Chicago this last summer, where Katie went to a ton of shows as a teen.
We are named after the infamous Mariah Carey song, 'Loverboy.' What is your favourite Mariah song?
Naomi and Jo both say 'Obsessed' because the music video is so iconic.
MUNA's debut album, About U, is out Friday.
Find out more about the band at www.whereismuna.com or follow them on Facebook, Instagram or Twitter.
Photo credit: Catie Laffoon