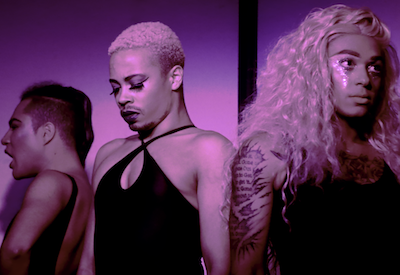 You're at a chill out and someone you've never met comes up bursting out your toilet with the bright idea of putting on a show at 8am – we've all been there right?!
There's three of you and you each want to be Beyoncé – centre forward, vocal gymnastics and thighs that could kill. One of you finds a choppy bob down the back of the sofa and so is willing to take one for the team and play the role of #PoorKelly but no one wants to be the wallflower, vocals-down-low-Michelle.
That was until #WeNeedToTalkAboutMichelle – a black, queer, high femme tribute act whose least attributed to Destiny's Child. Scottee caught up with the supergroup ahead of their exclusive performance at my NYE knees up…
So, which one of you is Michelle?
Haha! I think that's the point – we are all Michelle, at some point! It's a rotating spectrum. Like… Michelle-fluidity?
Why Michelle? Why not Kelly?
We thought that Michelle always gets bad press, she's put down, rejected, not uplifted. She deserved some air time.
Are you big Destiny's Child fans?
Well….. DUH!
How did your trio de tribute come about?
We were all performing on the scene together, became really good friends, and wanted a break from our more serious solo work! (also, people kept seeing us together and asking who was "the Beyoncé" of our group – and that irked us!!) So we flipped it on its head. None of us! We are ALL Michelle.
Has there been any tantrums, teething problems or diva moments like reported within DC?
I mean if you put Travis in a room with choreography there will obviously be a tantrum or 22.
You are all prolific artists in your own right, is this just for fun or is there a punchy politic to it too?
I mean ultimately, it's for fun. We had a busy spell, but then our own work picked up and we had to sleep on it a bit. Really, this is just about us doing something on stage that can be light hearted, silly, fun, joyful! Although, of course anything and everything is political. Black, gender non conforming people on stage will ALWAYS be a political act. For our Pride show, at the Duckie RVT party – we did mix a political sphere into our number, talking about the routes and history of pride, but a lot of the time – it's bad wigs and good dancing!
What can we expect to see from your performance at Naff Drag on NYE?
A tight-ish lip sync. A lot of sweat. Some camp dance routines.
Favourite Michelle meme or moment?
Omg you know when she responded back to the Poor Michelle hashtag with like her earnings and her successes? that was a moment!!
Favourite Destiny's Child track and why?
There is one for every day of the week!
#WeNeedToTalkAboutMichelle join Munroe Bergdorf, Figs in Wigs, Knickerbocker, Victoria Sin, Princess Julia and a ton of special guests and weirdos at Naff Drag NYE!
MORE INFO: https://www.eventbrite.co.uk/e/naff-drag-nye-tickets-37937766882