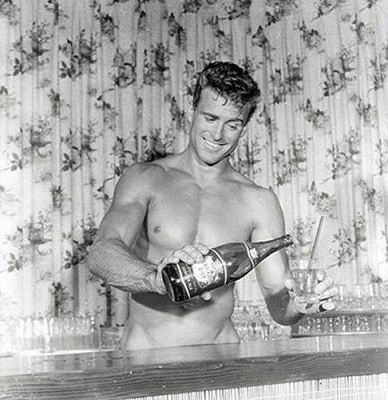 "Come along, dress up as your favourite doll-chugger, scream 'Sparkle, Neely, Sparkle! at the screen'"
Camp, titty shakers and cult cinema: Loverboy's Fallon Gold enters the mondo trasho world of Lobotomy Room for some sleazy classics of the screen and turntable. 
Because we mainly consume our cinema these days from our laptop, tablet or phone screens, going to the pictures becomes more of an event. And there is something just joyously special about sharing a particularly favourite movie with a group of friends and/or strangers.
Graham Russell hosts Lobotomy Room at Fontaine's in Dalston the last Friday of the month. Lobotomy Room is a queer club night of rockabilly, exotica, mondo trasho, and titty shakers with a projected backdrop of 50s beefcake porn. As if all of that weren't enough, it is FREE. Yes, you heard right: ZERO POUNDS. How often can you get a glorious night out shaking your moneymakers in London for nowt?
So why am I talking about a club night when I started out talking about films? Well, that's because the Wednesday before the dirty disco, Graham hosts a cult film night at Fontaine's. And this is also – GET THIS – free. Again, where, when, how? This is a unique happening, people.
First let's talk about Fontaine's. Tucked away on Stoke Newington Road, near the 24 hour bagel shop (take note: a very important landmark for the end of your evening) this is the most beautiful art deco bar of your dreams. There is a wall lined with Hirschfeld caricatures (where Bette Midler sits below Babs), golden palms trees and the most gorgeous décor. A detail that captured my heart is the flock wallpaper on the way to the bathroom. So strokey!
Downstairs the Bamboo Lounge lives up to its tiki name with a bamboo bar at the entrance. A small stage and dancing area becomes the cinema when films are shown (David Lynch themed cabaret Double R Club also host there, screening films on occasion). Luxuriate in white leatherette arm chairs and nosh on the free popcorn (there's that word again). There's amazing cocktails (a special LR menu for the club night), great food, and wonderfully attentive staff to meet your needs. Ruby Fontaine herself is a luscious superstar who is at once down to earth and an immaculate glamazon hostess.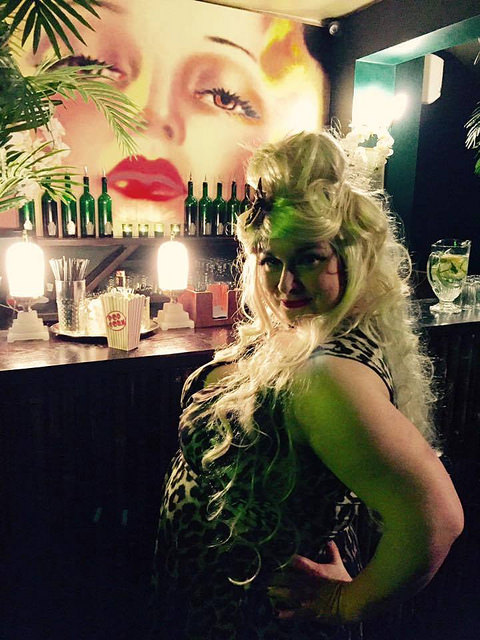 Graham Russell creates his film nights out of pure enthusiasm and love. He is one of those people who is a font of all filmic knowledge, particularly when it comes to golden age Hollywood, trash and cult classics, and hidden gems. His most recent screenings have included John Waters' Dangerous Living and the uber-strange and glorious The Wild, Wild World Of Jayne Mansfield. It is gems like the latter that make Lobotomy Room Presents… a must for anyone who loves campy cinema. Dress up was encouraged so I went all out with a massive, badly styled wig, leopard print everything and a Chihuahua called ChooChoo, after one who appears with Our Lady Of The Leopard Print Jayne in Wild, Wild World. The audience that night was filled with those who know and love the documentary and those for whom it was a completely new experience. The energy in the room was palpable and, like the film, giddy and slightly hysterical. We all dissected its glory at the end and then danced for a bit to Graham's disc choices – including, of course, those by Miss Jayne.
And this month, on the 25th, Graham is paying homage to the late Pattie Duke who died in April, showing the camptastic gem that is Valley Of The Dolls. A surprisingly rarely screened in the UK masterpiece of bad cinema, Valley gives and gives. Come along, dress up as your favourite doll-chugger, scream at the screen 'Sparkle, Neely, Sparkle!' and 'You Know How Bitchy Fags Can Be' and let's all rip each other's wigs off at the end and flush them down the toilet. Or perhaps not do that part.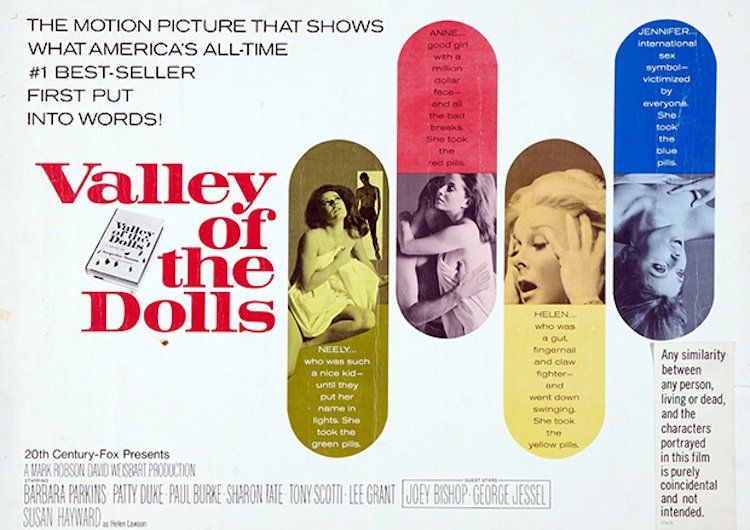 I expect to see you there on the 25th, darlings, and then again two nights later at the Lobotomy Room bop on the 27th. And, of course, getting a bagel at the end of the night. Mine's a salt beef with everything, babycats.