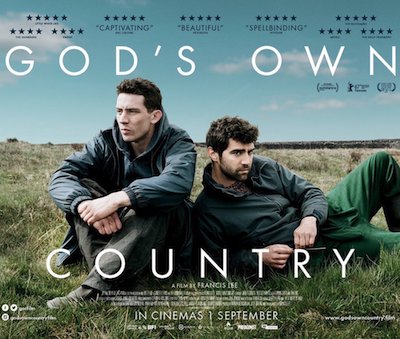 Today sees the release of God's Own Country on Blu-Ray, DVD and Digital in the UK. You know, the one that isn't  Brokeback Mountain or Call Me By Your Name. Or at least so other reviewers would have you believe.
As soon as watched this gay romance between two farmhands it became apparent that it would be compared to Ang Lee's 2005 gay cowboy movie. And considering its success in 2017, it's no surprise God's Own Country is being compared to 'the other gay movie' Call Me By Your Name. But all this comparing business does nobody any favours. Ultimately it limits us and the stories we tell, instead of allowing us to discuss more narratives and start new discussions.
God's Own Country tells the story of Johnny, who lives with his father and grandmother up north. All he's ever done is help on the farm and with a father who continually belittles you as he is frustrated at not being able to do it himself due to health complications, Johnny is becoming more and more pissed off with the situation. Then along comes Romanian migrant work, Gheorghe…
One of Loverboy's favourite things about God's Own Country is that this film is not about sexuality. It's about love. It's about getting over those all those issues we have inside of us that say, two men can fuck, but they can't fall in love. Speaking as someone yet to have their first relationship, this film was getting all too personal. But it hit us all that much harder because of it.
We won't give away too much of the plot – go watch it for yourself. But we do have a signed poster to give away. For your chance to win, email Michael@LoverboyMagazine.com with your address and the answer to this question:
What are the names of the two lead characters in God's Own Country?
A) Ennis and Jack
B) Elio and Oliver
C) Johnny and Gheorghe
Competition ends 5th February.
God's Own Country is out now on Blu-Ray, DVD and Digital.