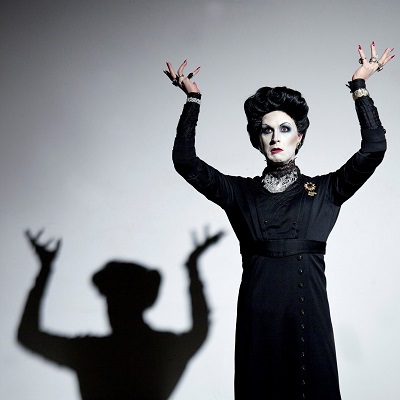 "Dame Angela Lansbury is a longstanding confidante of Frau Welt's"
Peter Clements and Oliver Dawe have birthed a glorious monster diva in Frau Welt. Patrons of London's Hackney Showrooms have had the pleasure of seeing her gestation and growth over the past couple of years and next month can experience a full length, one woman show exploring the world of this fictional legend. Fallon Gold spoke with Peter to find out more about this mysterious 'international shapeshifter' and what it is like to work in the creative hub of Hackney Showrooms.
For those who have yet to meet Frau Welt, can you tell us who she is?
Frau Welt is a living legend, an egomaniacal grande dame of the theatre with a spectacular story to tell. From Berlin to Broadway she has graced some of the world's greatest stages. Her life has always been shrouded in speculation, gossip and rumour. She works between Berlin and London where she resides at The Dorchester Hotel in her very own private suite, 'The Fellaçio '.
How did the character of Frau Welt come about?
I was crippled with anxiety about being an actor. I was out of work, only really doing one play a year and flunking auditions. I'd always harbored a desire to make a solo show. I had a character and her voice, a thick German drawl with a slight speech impediment. She was a delusional, vitriolic and highly charming older actress. I hosted a party as Frau Welt, stood by a fireplace, recounting tales of Angela Lansbury, Weimar Berlin, and Maureen Lipman. I improvised the whole night. I watched Elaine Stritch's At Liberty on YouTube, and I realised the endless possibilities of a one (wo)man show. One person shows are never solo; for the last two years I've had the incredible theatre director Oliver Dawe directing and co-writing with me. A scratch performance at Hackney Showroom in 2015 had an overwhelming response. We've spent the last two years refining our ideas into a large scale extravaganza.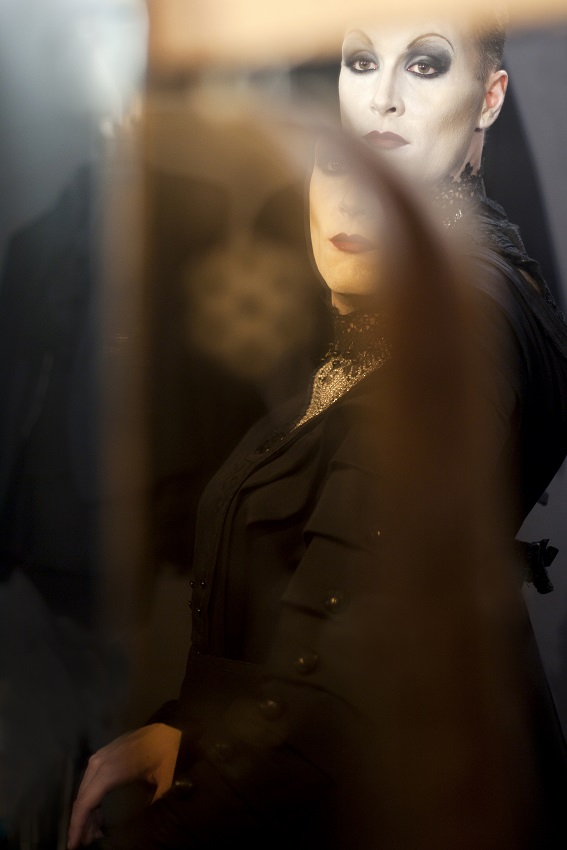 I find that sometimes, as a creative being conjuring worlds and their inhabitants, I can be as surprised as a potential audience by a twist or even a line of dialogue from the mouth of one of my creations. As you've developed her from her original incarnation to this full length piece, have you had any revelations and surprises from the world of Frau Welt?
In today's rehearsal with our dramaturg Tim Crouch I realised clearer than ever that Frau Welt is no solo show. It's actually a two-hander. The audience is the other character, different every night. Over the last two years I've also learnt that an audience has a voracious appetite for hilarity and terror in equal measure.
Drawing from the description of the journey of her life from Weimar Berlin to Broadway, I am wondering whether this show explores queer/camp performers and cult figures from history and the history of queer performance?
Dame Angela Lansbury is a longstanding confidante of Frau Welt's, and will be making an appearance in the play. Lansbury has long been a gay icon, and it is no accident she has made it into the show and as part of Frau Welt's backstory. A nod is made to the androgynous legend Marlene Dietrich, too. Oliver and I are also hugely influenced by the work of Lindsay Kemp.
The Hackney Showroom has proved to be an exciting and invaluable space for new material and performers. What has your experience been collaborating with people from HS?
I'm intensely proud of being an associate artist of Hackney Showroom. Everyone who works there is a good human being. Dickheads aren't allowed in! Sam Curtis Lindsay and Nina Lyndon have cultivated a space for risk-taking and daring, open to artists with ideas. Frau Welt would never have been created without their generosity and critical input. Sam and Nina are Frau's godparents, Hackney Showroom her spiritual home. I think of everyone there as theatrical family.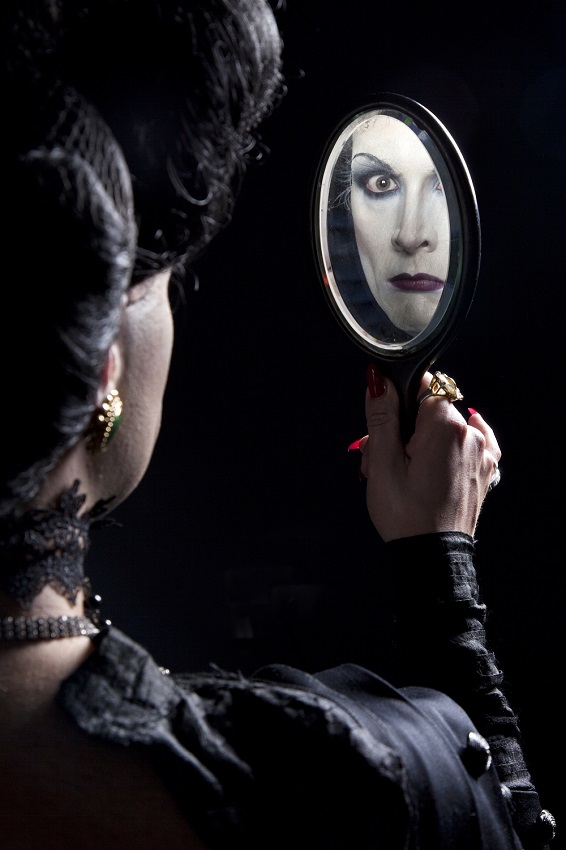 Frau Welt has conducted successful masterclasses in this space. Can you tell us a bit about these and if there are likely to be more?
Masterclass was the opportunity for Frau Welt to hold court once a month in a cabaret setting. We invited incredible guests from the world of dance, cabaret and comedy to join Frau Welt in a concept cabaret. We were surreptitiously testing and refining bits of the large scale show live on stage with audience reaction, knowing what worked and what didn't, all the while having a ball. It was in the Masterclass cabarets that Frau Welt started to steal audience member's drinks, gasping for a refreshment. Hold them tight.
Will we see more of Frau Welt and her adventures in the future?
I have a very strong feeling this won't be the last time you see Frau Welt…
What other projects have you got coming up?
Inspired by my working class background, my eccentric Cockney family and growing up on council estates, I've started to simmer a new idea for a drag character. In the New Year I start work developing a new play by Nicola Baldwin, 'Blackshirts', which examines fascism amongst a group of young adults in 1930s London. After Frau Welt, a self-imposed exile!
If Frau Welt were to cover a Mariah Carey song, what do you think she would choose?
Frau has had her heart broken many times throughout the years and loves a nostalgic tale. She'd put Without You on whilst she bathes in her suite at The Dorchester, learning lines for her epic solo show.
All images by Holly Revell
Frau Welt plays at Hackney Showrooms, London from 4-21 October (except on Sundays)