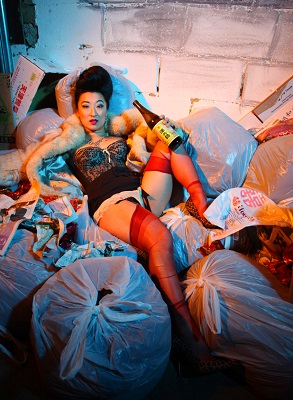 "It's all about balls. Everything's about balls."
Fancy Chance is a superstar of the cabaret scene. Whether it's bringing her uber-hilarious imitations of Prince or Lieutenant Uhura to a burlesque stage or showing her circus chops by doing stuff whilst suspended by her hair, it really doesn't get better than Fancy. She's one of Loverboy's favourite performers and Fallon Gold caught up with her to talk about her part in the new Empress Stah ensemble circus show The Raunch and her upcoming show at Soho Theatre. Prepare for full-on heart eyes.
Your Web site declares 'Fancy Chance Loves You'. We love Fancy Chance. What would be the ideal date we could take you on were we lucky enough to pull you?
What Fancy Chance dreams of right now is sleep, foot massages, scalp massages and delicious treats.  I suppose a date in a large bathtub in the middle of a tropical forest with a troupe of faeries feeding me dark chocolate drops with an IV of Pappy Van Winkle Reserve would do the trick.
Very nice beverage choice. I'm also bourbon girl myself. Just sayin'. Your Prince performance is the best piece of burlesque/cabaret that I have ever seen. You were one of the first people I thought of when I heard he'd died. What did that shock death mean to you as the premier Prince impersonator in the whole wide world?
I was floored.  We all thought that Prince would be eternal but alas, we all must go.  The legacy he's left behind will outlive us all and my homage performances shall have even more potency and meaning now that his live shows are no longer with us.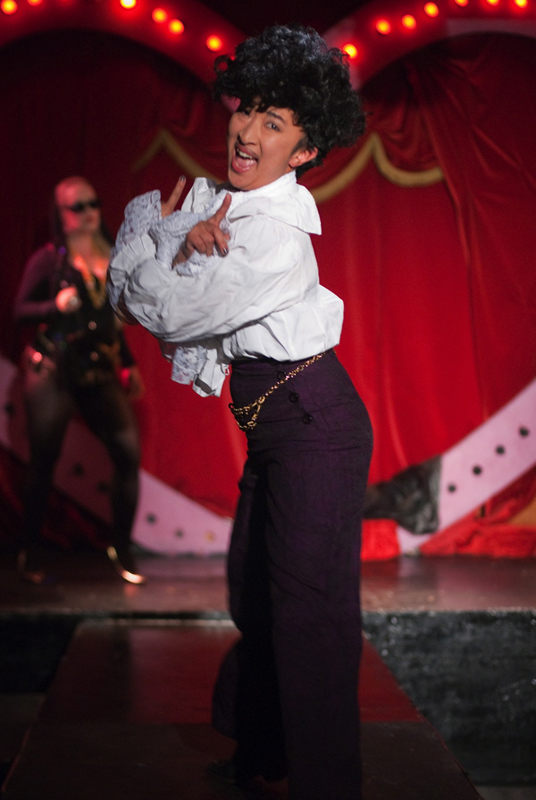 Will you continue to perform your Kiss/Cream routine in tribute?
Of course.  May his highness reign.
Tell me about the representation of Prince in The Raunch. In fact, tell me about your part of this new show.
An element of a Prince show I do shows up in The Raunch (I can't give away a spoiler) but I'm not in drag.  The character I play is like a panto bad gal, so in that respect I'm a bit in drag.  I contour my face so much it looks like my cheekbones are about to attack.  Basically my character is a sort of chancer, con artist sales gal selling snake oil with promises that it will do things that could never be possible.
Oh, I do a hair hanging act in it and sing like a sailor.
What is it like working as part of an ensemble with Raunch as compared to your solo work or duo work with Trixie?
It feels like the difference between being a tennis player to being on a football team.  It's all about balls.  Everything's about balls.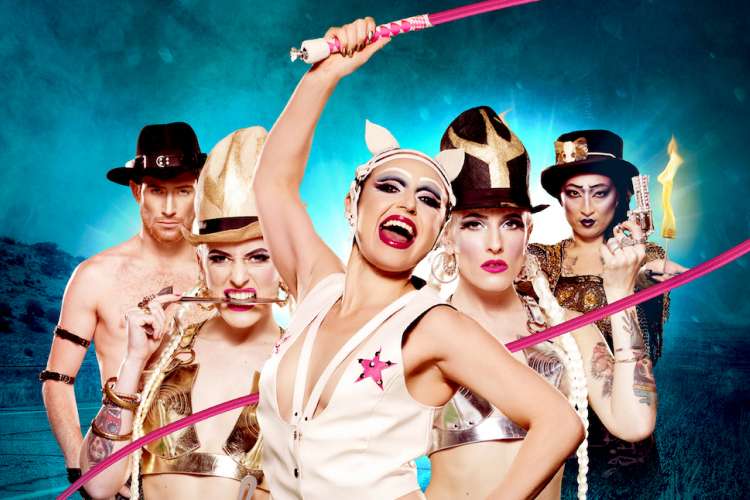 How did winning Alternative Miss World and London's Next Top Tranny effect your career?
I finally got something to put on my CV besides "I did funny stuff for four people in a public toilet queue".
As someone who has been part of the alternative cabaret and drag scene for some time, how have you seen it develop and change and what do you think its future looks like?
I came on the scene in 2003 and have only seen it grow and grow. There's the good, the bad, and the weird.  I think it's really important that the live alternative performance scene stays alive and healthy to keep reminding people that wonderful things can happen in REAL LIFE rather than on a fucking phone screen. There's a massive appetite for it and the drag king/queen scene has grown loads in numbers, sophistication and variety.
In your opinion is queer cabaret always inherently political? And how important is it to have FUN?
"Outsiders" on stage is always political.  It gives us a voice in a way that is not often granted permission in the outside civilian world. Fun is very important but I think if you concentrate on doing something you love and respect will always end up being fun.
I think I prefer the word "joy".  Joy is very important.
And it is certainly so joyous watching you perform. What's next for you? The Raunch is going to Yorkshire Festival and Edinburgh this summer but between that I'm doing a two date showcase of my solo show "Flights of Fancy" at the Soho Theatre 21 and 22 of June!
What's your favourite Mariah Carey Song?
WHYYYYYYYYYYY are you asking an old ex goth this??????  Is she related to Minnie Ripperton?  I can only recall her from a video in the 90's in a gingham shirt sitting on the top of a convertible with her perfectly coiffed locks swinging in the air as she gesticulated wildly with on hand whilst gripping the shit out of the back seat with her other.
The Raunch continues as part of The London Wonderground until the 12th June, at Batley Frontier in Yorskire from 29th June – 2nd July, and runs from 4th – 22nd August as part of the Edinburgh Underbelly. See Fancy Chance in Flights Of Fancy at Soho Theatre 21st and 22nd June.