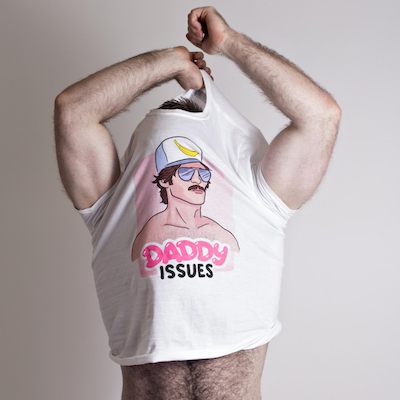 It seems everyone wants a Daddy these days. (Unless you're Shangela. But we can't allll be what?! Sickening!) So if you're on the hunt for a mature man and those age filters are proving fruitless on the apps, fear not, just go kick it with the kids at new London hot spot – Daddy Issues. The team behind it are Oly Innés Borja Peña, James Bartlett and Dom Top while the illustrations from @HeyRooney have made it instantly recognisable. Loverboy caught up with Borja and Oly to find out more while Paul tried on the much-in-demand Daddy Issues tee just for us.
Guys, congratulations, Daddy Issues has become an overnight success! What's your secret?! What can we expect when we come?
Borja: You can expect fun people, friendly faces, good electronic music from our guest DJs from all over the world and Dom Top snogging someone in the corner
Oly: Hopefully people see that this isn't a party which is uber-sexual and all about getting fucked. It's more about the people, the music and the vibe. Hopefully people see it's a safe space for all different types of guys who all have a great sense of humour.
How important are the Daddy Issues sketches?
Oly: @heyrooney does them and we are so so so happy to be working with him. He personifies the brand. He is the brand. We are always so excited when he sends us the latest daddy and we love working with him, designing them.
Borja: I think my favourite Daddy is Keith. I'm a sucker for a good moustache.
EVERYONE wants a Daddy Issues t-shirt. They're all over Insta. Who is your favourite model seen in a Daddy Issues t-shirt?
Oly: I have a thing for Rogan Richards so it was cool to see him in one.
Borja: I can't choose! But seeing Oly from Years and Years wearing it was such a good feeling. Apparently our Oly met him in the gym?!
Tell us about Tipsy and why it is the best venue for you and Daddy Issues?
Borja: There is a special kind of fun you can only get in a crazy, dark, sexy basement that is kind of hands up in the air and hands down someones pants kind of fun…you know?
Oly: I just love the tackiness of it, there's weird shit all over the place. The managers are lovely too and treat us really well.
Which cities are you taking Daddy Issues to next?
Borja: We just did a fantastic party at The Stud in San Francisco and we want to come back! We keep getting requests all the time but we need to make sure the space is right. Hang on in there Daddy is coming soon promise!
Oly: We want to do the party in all major gay cities so everyone gets a chance to experience it.
What else do you have planned?
Borja: We have some very exciting DJs coming to play at the party, we have new designs and limited edition pieces and we're also talking with festivals and Pop ups…so excited about 2017 and 18!
Oly: I'm now based in LA so we are starting the party monthly starting on the 22 of June! We are still finalising details but they will be announced soon, Daddy has two homes now!
Lastly we're named after Mariah's song Loverboy. What is your favourite Mariah song?
Borja:  Make it happen!! MY LIFE MANTRA. Love me some Mariah.
Oly: And I was like…why you so obsessed with me?
The next London Daddy Issues is at Tipsy on 12th May with regulars Borja and James Bartlett as well as guest DJ Chris Camplin.
Find out the latest in Daddy Issues at www.daddyissueslondon.com or follow them on Facebook or Instagram.
Buy a Limited Edition Loverboy t-shirt here.
See more of Robbie's work here or follow him on Instagram. Stalk Paul on Instagram.