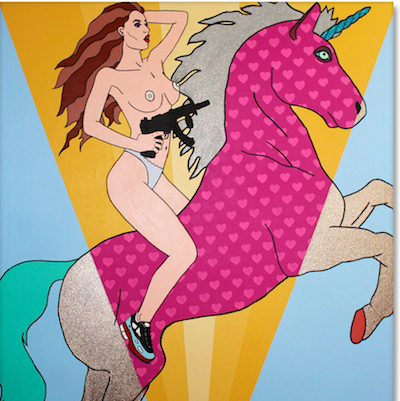 How many artists that you know are influenced by unicorns, men 'enjoying each others company' and iconic dolls from cartoons of the 90s? Well, if you're reading this, possibly a few, but we're willing to bet they do not make it seem as colourful, as sexy or as fun as Borja Casterad. In our exclusive we talk to one of Barcelona's most exciting new artists, alongside photos of him and his work, taken by Mario Mendez. 
How would you describe your style?
A surrealistic costumbrism under an absolutely pop prism. I feel more comfortable painting on canvas and in a big format.
Who are your muses?
My muses are my friends. I have a soft spot for transvestites and transexuals like Didi Maquiaveli and Alex Mercurio. They're fabulous!
I'm very in touch with my infant side too. I'm a little immature, I'm still trapped in the 90's movie 'Problem Child.' And I use animals as a connection with our most natural inner being and our primary instincts.
Where would you most like to display your art?
I like to show my art everywhere I can! I need a lot of attention! I have a lot of projects right now, jumping from my work as an art director of a LGBT / electronic art & music event, working in an exhibition at the ART FAIR MÁLAGA and more exhibitions here in Barcelona.
We are named after the infamous Mariah Carey song. What is your favourite Mariah song?
Without a doubt my favourite Mariah song is 'Touch my body' because it describes what I want boys to do to me every weekend. Haha…
Find out more about Borja at www.BorjaCasterad.com or Follow him on Facebook / Instagram.