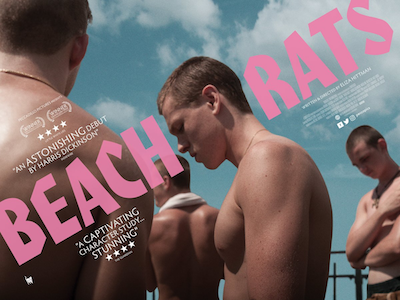 Beach Rat's Frankie (Harrison Dickson) is a confused teenager living in Brooklyn – his father is dying of cancer, he dates a girl whilst also sleeping with older men he meets online, he takes drugs and hangs out with his straight friends on the beach. Frankie doesn't have a job, except occasionally dealing drugs – he's aimless, struggling with his sexuality, his family and everything else, but he's also restless and relentlessly pleasure-seeking.
Dickson's quiet but expressive performance is excellent – with very little dialogue he carries the film, not least as he's in almost every frame. It helps that he looks great. Hélène Louvart's 16mm photography is seriously beautiful, the blues and greens of the night and beach scenes clearly referencing Moonlight (I've already seen someone call it 'Moonwhite' which seems a bit harsh). The camera lingers on Frankie's body (and those of his friends) throughout; the film is slow for only 98 minutes, very much visual rather than plot-heavy. The oh-it's-so-sad-being-gay genre has been done to death, so it's unfortunate that parts of the film are a bit clichéd – the finale feels unnecessary in a film that is otherwise slow and poetic rather than melodramatic. That being said, though Frankie is clearly written as a gay man, I like to think there's room to read him as bisexual, or at least sexually ambiguous – it's the other characters in the film who try to put him into boxes.
I don't like the phrase "coming-of-age film" but I guess that's what this is. Director Eliza Hittman's second feature is a subtle exploration of growing up queer, visually gorgeous and mostly fun. It's been a good year for gay films (Call Me By Your Name, God's Own Country) and they're in great company with Beach Rats. (Review: Matt Harris)
Beach Rats is out today in the UK with Peccadillo Pictures.