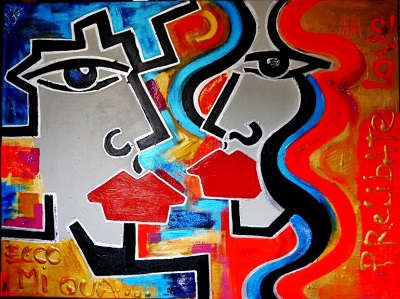 When Jennifer Brough spotted one of her favourite artists working on graffiti in the street she knew she had to tell her what her paintings meant to her. Jenn spoke to Anna Laurini about her work and her new exhibition in Clerkenwell.
When did you first start street painting?
I started about 3 years ago for fun, but then it became an addiction!
Your figures are instantly recognisable. How did you form these penetrating faces?
I've been practising for years.
The show features a lot of characters in the same frame. Crowds, couples, most seem to be female. Is the gender intentional?
Gender is not a major focus. My favourite is the couple – the woman and man. This is the ultimate symbol of love to me, the completeness between them.
Some of your paintings have instructions to the passer by, often upbeat messages. Do you find art a good way of communicating positivity?
I just like truth and beauty.
New York abstract impression is an influence for you, along with major cities. What else inspires you to make art?
Everything from music and people, to writers and philosophers like Albert Camus, Seneca and David Icke. As well as Palestine.
What's next for you?
I'm going back to New York!
For continually bold and intriguing work, Anna Laurini's pieces can be seen at The Keep throughout the summer and, for those who know where to look, in and around London.