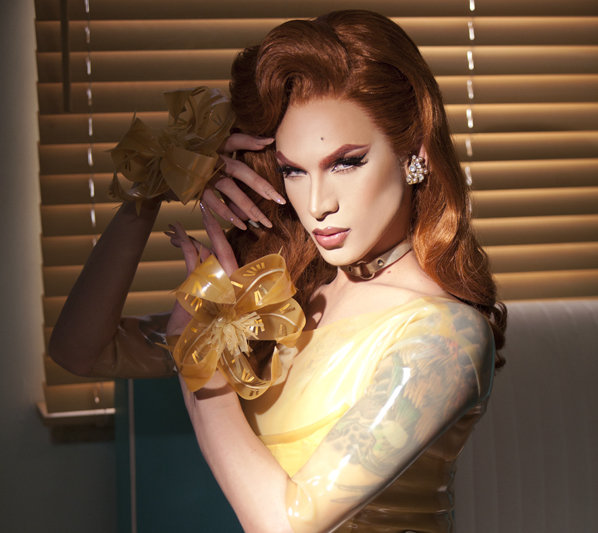 "I didn't bring chickens to the Big city but I believe it's legal."
We were rooting for Miss Fame the whole way through Season 7. Sure, sometimes she kinda missed the joke and often went into self analytical monologues, but who doesn't?!
Anyway we caught up with her to find out what she's been doing since, what Wendy Williams is like and yes, how her head is….
So, first things first, I know EVERYONE asks you this now, but our readers want to know 'How's your head?'
Best in town! I even landed me a husband as a result. Took me a while but I got there.
Now, those chickens. Did you bring any to New York? Do they influence your style/show at all?
I didn't bring chickens to the Big city but I believe it's legal. I actually had chickens in my backyard in California a few years ago, before making the move to New York. I miss having them near; they are sentimental and soothing to me.
Who were your first celebrity make up clients? 
Right after losing my retail job, I landed a cover shoot with JWoww and Snooki from MTV's Jersey Shore, of course I call them Jenni and Nicole. Jenni and I hit it off straight away and I continued to work closely with them and MTV. This ended up trickling into many other opportunities in New York to which I am so grateful.
I have had the honor of working alongside the makeup icon Pat McGrath during fashion week. Being able to touch the faces of today's major models for Versace runway shows.
Also to do makeup for the legendary Eve Salvail for a recent cover shoot, who was the muse of Jean Paul Gaultier in the 90's supermodel era. These are moments I hold dear and push me to create more impactful beauty as a makeup artist.
You've beat Wendy Williams. Is she nicer than on TV?
She was gentle and so sweet in person. I have watched her show and see her shock value, I think we can all turn it on for the camera, but behind our public persona is a real person. So I choose to hold my one on one with her as who she truly is and she was very open and kind.
Did you apply for previous Drag Race seasons? If yes, why do you think the timing was right this time?
I did apply for Drag Race one previous time. I received an email, which suggested I submit my tape from someone whom I respect within the network. I probably would've not tried out without the push. I didn't get it the first try but by season 7 I was asked again and I followed through. I know that the previous year I was just not ready for the show, it has pushed me to evolve into something bigger than I could've imagined.
Did you have concerns that you would actually be better off without RPDR? Big things were already happening for you before the show…
I did feel a little concerned about how I would be portrayed as a result of being on reality television. I just told myself to stay true to me and not get caught up in the drama. I am proud of how I conducted myself during the experience. If anything the show elevated my art and gave me the courage to explore my talents further.
At this time in my career I have utilized the experience to explore my art. I have recently released my first single 'Rubber Doll' off my upcoming debut album. It was unexpected and has been extremely well received which has been incredible. I loved being able to take my years worth of journal entries and write the music, also to conceptualize the videos and see the magic when I share online.
You can see the video of 'Rubber Doll' on my YouTube channel and get the single on iTunes and Amazon.
Mama, you learned how to plug your shiz from the best! Seamless! Haha…It's been a constant theme on RPDR that the judges want queens to offer a broader aesthetic even if that means changing their core aesthetic. Do you think they have the right to ask you to change who you are? 
After watching myself in the challenges, I could see more clearly what they wanted from me but you can't redo this experience. That's what makes it so magical, being on this show and going through the motions as they come. It really is great television. I think the judges want to push you to reach your greatest potential and also break down the walls we create as artist to become something bigger. I held tight to my glamour as I felt it's what I had worked so hard to create. During the ugly challenge, in the John Waters skit I pushed myself into unchartered territory and was actually proud of myself for being so grotesque. On the runway, I thought more about the presentation, I took an editorial approach but it didn't land. I stand by my look, as I know my intention. Regardless, that moment doesn't define my future. It was an incredible experience.
What song would you loved to have had as your Lipsync For your Life song?
Madonna's 'Frozen.' I think the look would've complimented the performance. Plus I have always loved the mood to that song.
Why should you get Miss Congeniality?
I genuinely care about the well-being of others, even while in a reality television competition. Regardless I am continuously authentic and that is a sense of self that I feel needs no validation.
I thought you would make it further. Are you surprised with the way things worked out?
I thought so too. I was ready to go all the way but it wasn't my decision to make. I hit a wall and unfortunately in the world of this specific competition didn't fair me extended time on the show. But it also didn't break me, I left inspired and ready to push for a greater level of achievement for the world to see.
Do you feel as seasons progress Ru is looking for characters who make good TV as opposed to a broad range of queens who represent all sides of the spectrum?
I am not sure to be honest. I hope that it's based off talent.
Do you feel drag queens are asexualised in the LGBT world?
I think that's partially true. A lot of people within the LGBT community find a sense of safety and almost maternal love from a Drag Queen. That was my feelings in my earlier years, before I dressed up myself. I do know that I attract a certain kind of man and it's really intriguing to feel like a fantasy to those that desire Miss Fame. It means I'm doing something right.
Has Dave Mason from Slick It Up made anything for you yet?
No, he hasn't. Let's do it.
Eddie from Rubbermen London hosts a board games night for the rubber community. He was wondering if you'd like to come and what game you'd suggest?
I wanna play board games with a room full of latex lovers. How amazing is that! I would say Monopoly because it's cute and I like to be the fancy car and get out of jail.
We're doing a 70s/80s DJ set tonight. What track should we add?
Andrea True Connection's 'More, More, More' and Billy Idol, 'White Wedding.'
What is your favourite Mariah song?
'Hero', 'Always Be My Baby', 'Honey'… She has a greatest hits album, which I could totally get into. She reminds me of my aunts when I was a kid and watching them do their hair and makeup.
Miss Fame's album 'Beauty Marked' is out 9th June. Pre-order is available on iTunes from 31st June.
www.missfamenyc.com
www.facebook.com/missfameNYC