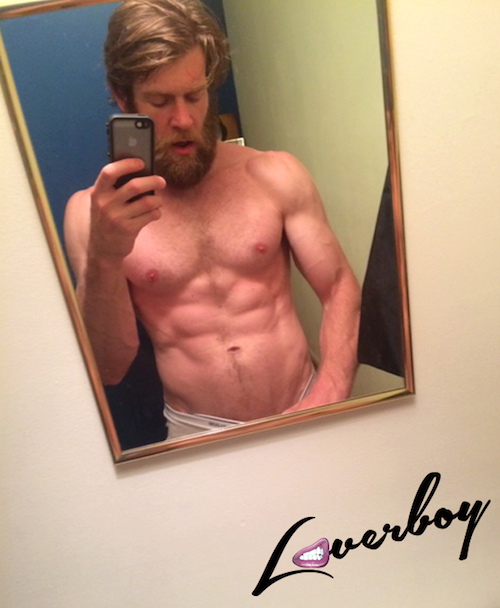 Twink. Daddy. Power Bottom. Bear. Gay for Pay. There are many different types of porn star and now thanks to the likes of Colby Keller we can add one more to the list – The Arty Porn Star.
Of course the Arty Porn Star has been knocking around for years – just ask Joe Dallesandro – but Colby is different. There's his blog Big Shoe Diaries where he runs his 'Boners for Books' campaign, posts pictures of penis shaped items in everyday places and some actually really beautiful fan art. Then of of course there's THAT beard.
But now Colby is embarking on a new project that has seen him trade in every worldly possession to save up (along with your help) for a van, a mattress and a camera. That's right he's going travelling around the US and is aiming to fuck someone in every state. Find out more on his IndieGoGo page or at the bottom of this post.
What's your favourite candy?
Candied almonds (Jordan or Dark Chocolate) or Dots…and I like to share.
What's your ringtone? 
I only really text so . . . vibrate.
Who is your all time crush?
Vladimir Lenin. Everyone loves Lenin!
What song always gets you dancing? 
I Got You, Babe (Sonny & Cher), Wuthering Heights (Kate Bush) and Rock The Casbah (The Clash)
What brand/type of underwear do you wear? 
Fruit of the Loom (aka grandpa panties) unless I'm on set and have to wear some candy ass branded shit. Real sexy looks good even in saggy cotton briefs. Plus they're only $7.99 for a 15 pack at Walmart.  At that price, who needs to do laundry?!?
How many dates till we get to third base?
Is third base when you don't use a condom?
Kiss, Marry, Avoid – Mariah Carey, Kim Kardashian, Grace Jones
Kiss Grace Jones and make the other two battle it out in a televised death match directed by Ryan Murphy.